1898 - Adieu / Absinthe / Scene To Be Seen / Beholder of Beauty
Choreographed by Hubert Essakow, Kirill Burlov, Tamarin Stott, Mbulelo Ndabeni
Print Room at the Coronet
–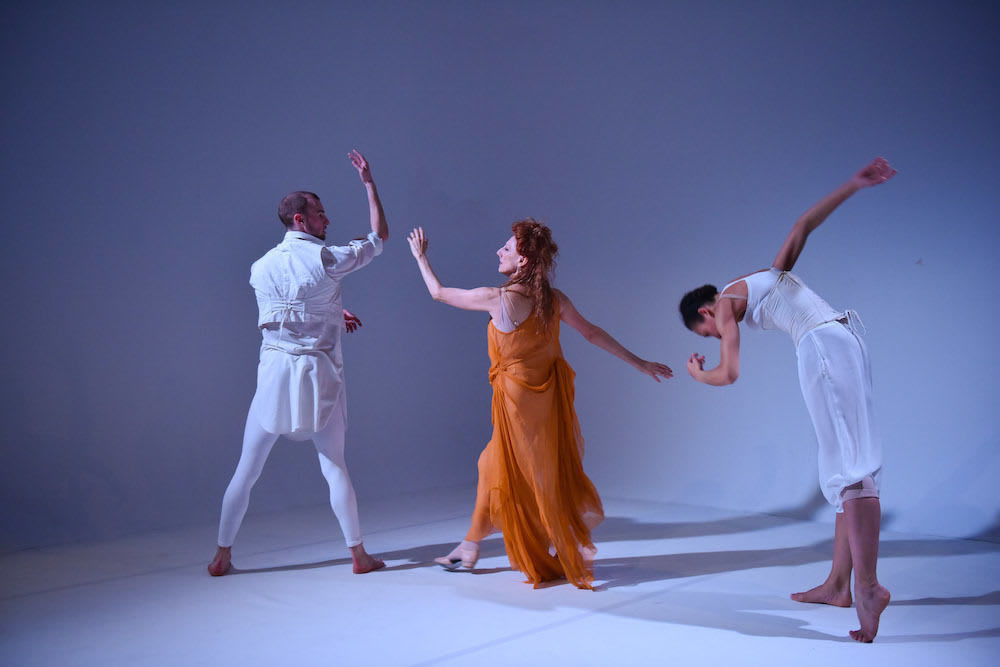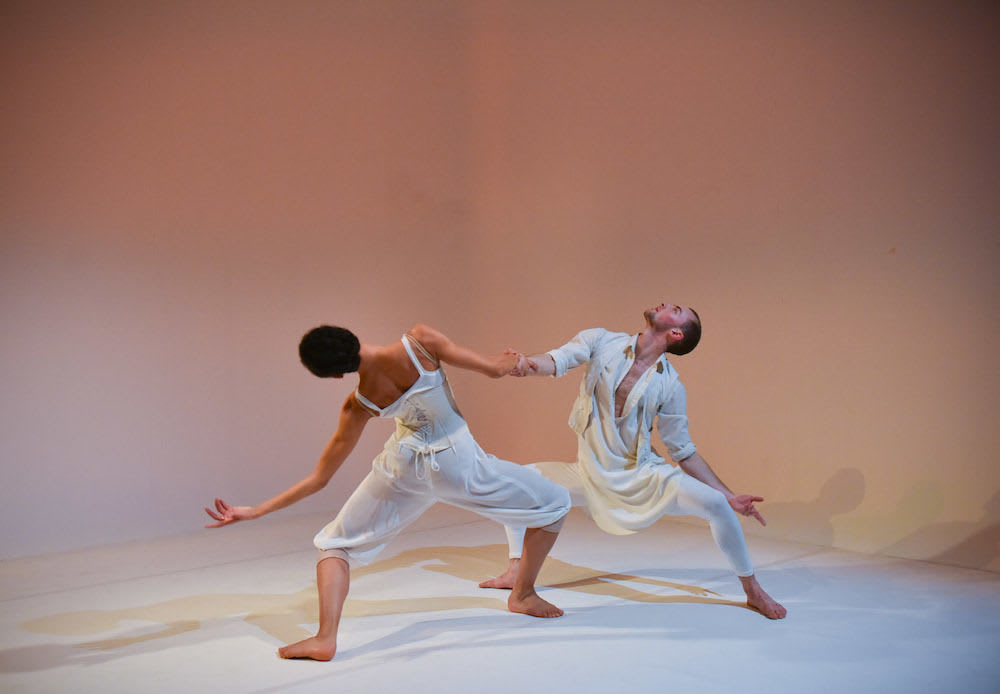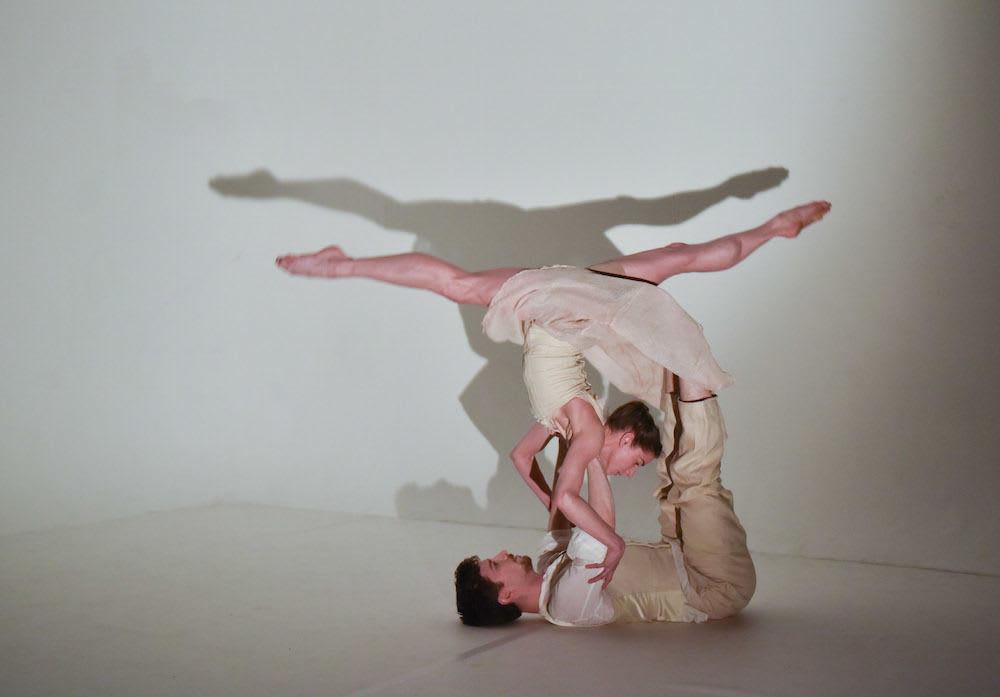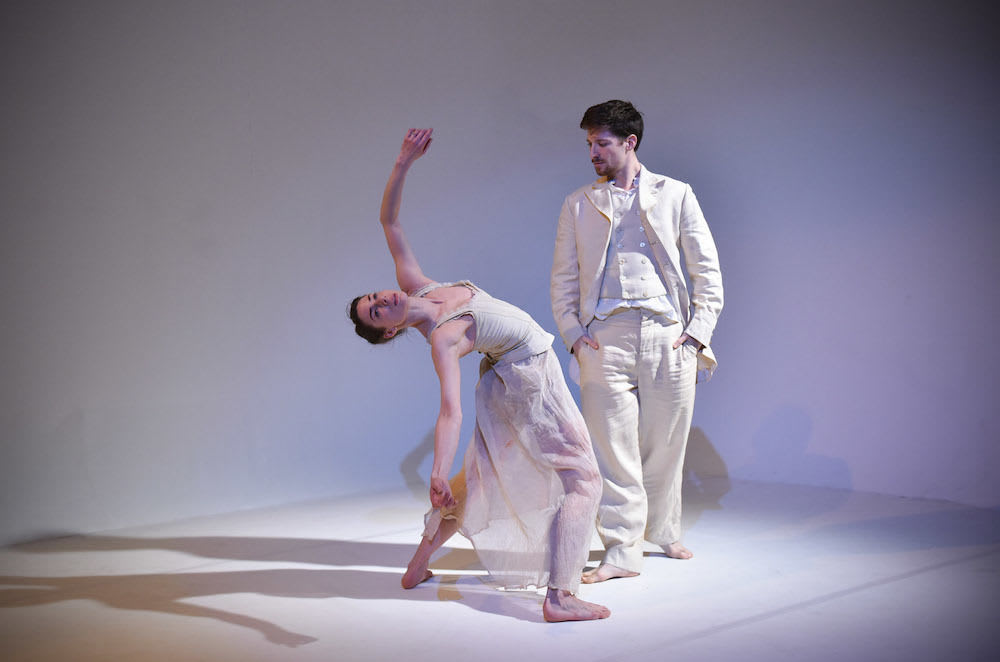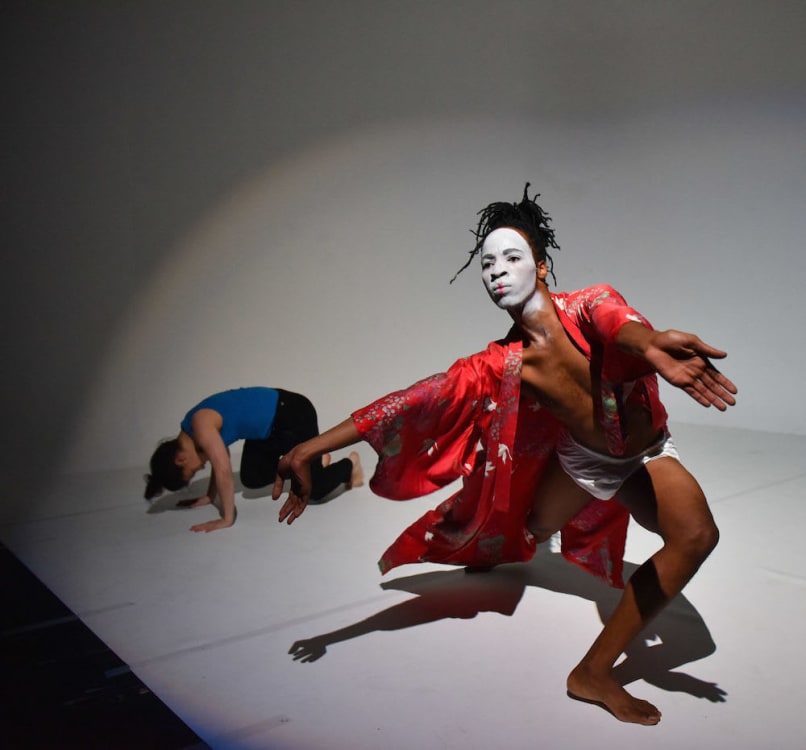 The Print Room's move from its former printing warehouse old home to the long-neglected Coronet in Notting Hill as its 'new permanent home' is a needs must flit.
Without regular public subsidy it is also an enterprise of some challenge—the 'extensive restoration project' of a listed building. But where would the arts be without visionaries prepared to go where others fear to tread?
Treading the boards—where Ellen Terry and Sarah Bernhardt once trod—for a contemporary dance week in its temporary 'set-up in the Coronet's former smaller cinema space' are Print Room Artistic Associate Hubert Essakow and three emerging choreographer-dancers, invited to respond to the glory days that were.
Four short dance works, an hour in all, to reflect and celebrate the Belle Epoque year in which the now faded crumbling Coronet was built, its historical period so rich and resonant, challenge their creators, too, over-exposed in a space seating seventy at most.
Hannah Hall's plain white set—two adjoining walls, floor and ceiling a photographer's studio waiting for its players and projection—serves them all. Ben Nichols's lighting design, Fred Riding's sound design and projection, and Gareth Mitchell's sound artistry paint each scenario afresh.
Essakow bids Adieu to Sarah Bernhardt, here played by mature dancer-actor Naomi Sorkin. Satie and Debussy, sound of carriages and horses. A young couple (Cree Barnett Williams and David Ledger) in gauzy white enter, feel the walls, feel each other, white on white bas relief.
Bernhardt appears in face-masking hat and dark cloak. Takes them off to reveal an orange Isadora Duncan-floaty organza dress that clashes dramatically with her red hair.
Episodic, enigmatic, emotional, but elusive: the couple dance with each other, but what they are saying escapes me. A kiss ends it.
Kirill Burlov's (formerly with Michael Clark and Rambert) Absinthe pulls no punches. Syncopated rhythms, peeling walls, noises in the head, silent cinema, off-kilter reality: Burlov is crawling up the walls under the influence of the green fairy.
Wilde, Van Gogh, Baudelaire, Verlaine, Rimbaud, Maupassant rolled into one, Platon Buravicky's soundscape searing his absinthe-raddled brain, seeing double—Rob McNeil his joined at the feet Peter Pan sparing shadow alter ego—Burlov rides out his brainstorm.
The white room becomes the padded cell. Clichés abound, but there is promise here. As there is in Tamarin Stott's Scene To Be Seen, in which she is partnered by Nathan Young, both appearing courtesy of the English National Ballet.
Playing both audience and performers, they toy with the concept of time. Sitting amongst the audience taking selfies… Then casting off their modern coats, underneath they are in period cream frockcoat suit and elegant dress. This is about the theatre experience.
Both lovely classical dancers, but Stott's ambitious choreography puts them under strain. Lots of mime to a stuttering, needle-stuck, crackly soundscape of newsreels, film, God Save the King, etiquette advice, fashion and morality—one might call it socio-anthropological dance. I find myself listening more than watching.
Mbulelo Ndabeni's (formerly Rambert) Beholder of Beauty is, apparently, influenced by The Geisha, the first light opera performed at the Coronet in its founding year, and Hugh Grant in the film Notting Hill. Though I must say the baggy underpants Ndabeni wears under his kimono remind me more of the Rhys Ifans character than Grant.
A strange confused piece, I can't make much head or tail of it. Has the green fairy found its way in here? Is it a parody of the orientalism that was very much a fad in Britain at the time?
Androgynous in geisha face paint and open kimono Ndabeni flexes his core muscles, stretches, bottom shuffles (Pina Bausch trope), flits about until Piedad Albarracin Seiquer, a hyperactive young girl in modern black trousers and blue vest takes the floor.
Shirley J Thompson's jazzy fairground score provides few clues. A flower blooms in structured time lapse on the backcloth, and structure is Beholder of Beauty's missing component.
Dance is ideally suited to a poetic reconstruction of ghosts of the past, a fleeting glance, a scent, a moment, but to get it right is not as easy as it seems. It never is. These works-in-progress bravely offered far too soon demonstrate why.
Reviewer: Vera Liber