1984
George Orwell, a new adaptation created by Robert Icke and Duncan Macmillan
Headlong
Richmond Theatre
–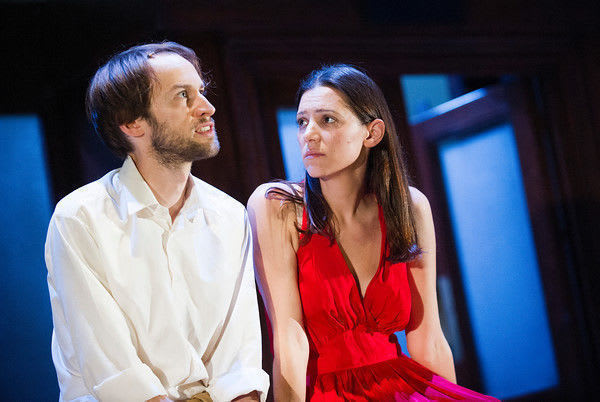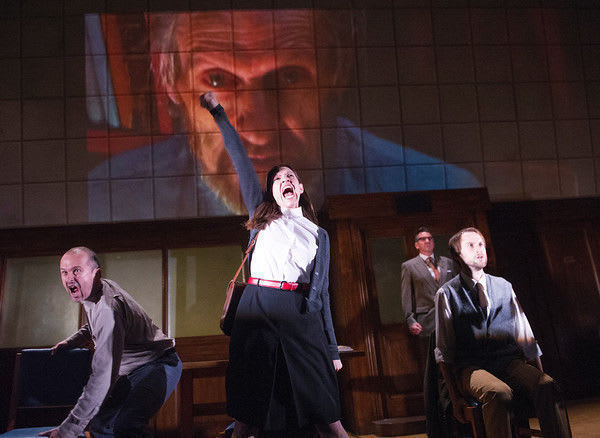 This stunning production by Headlong is a strange mix of literary homage and dramatic eccentricity. It is very much an example of auteur's theatre that is likely to have great appeal at the same time as it leaves some viewers with nightmares. As such, it has much in common with the novel from which it has been drawn.
The opening scene is a fresh flight of fancy, as a handful of academics deconstruct Orwell's novel and its protagonist in a sympathetic detail.
While this is going on, Mark Arends as a somewhat ungainly man with unkempt hair and beard works steadily away. His writings are projected onto a large, raised screen stretching the width of the stage and showing that Winston Smith is already having the kinds of thoughts that were known as crimes in Big Brother's futuristic dictatorship.
The debate fades away to make room for Winston and his compatriots to give us a taste of the regimented lifestyle that they must inevitably endure rather than enjoy.
At all times, one or two silent but intense observers, bringing back sinister memories of totalitarian states before the Berlin Wall fell, sending inevitable shivers down the spine.
However, it is the jocular stories of his seven-year-old daughter delivered by Parsons, played by Gavin Spokes, that really hit home, since the enthusiastic youngster is a specialist in denouncing thought criminals and sending them to prison and almost certain death.
Winston's seditious lifestyle introduces him to a bookshop owner who seems to have the only property in town that is not monitored every second of the day. He also meets Hara Yannas as pretty Julia, an independent soul who soon seduces our hero and offers him a glimpse of true happiness of the kind that was enjoyed back in the good old days before global conflagration changed life forever.
In this adaptation, the affair is carried on behind closed doors, voyeuristically but rather distantly viewed on the big screen rather than in the flesh.
Despite the fact that the pair go into the affair with their eyes open, it still comes as a shock to discover that the state, represented by Tim Dutton's chilling O'Brien, follows their every move, as becomes apparent when Winston is captured and tortured.
The transformation scene between happiness and despair proves to be a tour-de-force for designer Chloe Lamford, who had already made a strong impression in the earlier snapshots of dystopian Oceania.
The finale really is pretty grisly, building up to a terrifying visit to Room 101, such an iconic literary symbol that it spawned its own TV series half a century on.
By the end of a packed 100 minutes, viewers will have found themselves both shaken and stirred but probably enthused to re-read the novel or pick up the DVD. That is as much as anyone can ask from a stage adaptation of even one of the greatest novels of its time.
This production, which was originally seen at Nottingham Playhouse continues to tour and it has just been announced that 1984 will be taking up residence at the Almeida for a month from February 2014.
Reviewer: Philip Fisher