1984
Music by Lorin Maazel, libretto by J D McClatchy and Thomas Meehan after George Orwell
Royal Opera House, Covent Garden
(2005)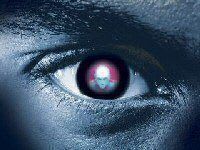 This review is dedicated to our regular opera critic, Kevin Catchpole who is seriously ill in hospital at the moment. We hope that he will be well enough to read it very soon.
1984, both the year and the novel, should now be way behind us but in the week of a General Election that will be decided on spin and with troops continuing to die in Iraq, it still hits hard.
The opera is Lorin Maazel's first, although he has spent a lifetime as a conductor and takes up the baton at Covent Garden for the first time in quarter of a century. Robert Lepage, his choice as director, has worked in theatre, film and, to a lesser extent, opera. The combination works well. Although the visual genius of one of the world's great directors can overwhelm the richly varied music, it more often complements it.
From the striking overture through a chilling scene of almost orgasmic Big Brother worship from a chorus of 75 fanatics, identically dressed by costumier Yasmina Giguère, there is a sense of edgy excitement. Throughout the three hours, it is clear that this is very much modern opera with dissonant, turbulent music containing few melodies but fitting the subject matter well.
The initial scene-setting takes place in the colourless, drab, regimented Airport One (formerly known as London). This contradictory world, overseen by the simian Big Brother, is ambitiously designed by Carl Filion who uses and adapts a large, semi-circular structure in this part before entering the more private areas, where we unusually look into corners of rooms on two storeys. The whole is often sparely lit by Michel Beaulieu who does turn the spotlight on when the drama hots up.
Soon, our hero, Simon Keenlyside's nervy Winston Smith, finds an idyll. He escapes his word-factory of rewritten news with Nancy Gustafson's lovely Julia, the sweet voice of freedom and hope. For a short period, their love burgeons amid the almost-Victorian proles, reaching its zenith in a beautiful scene, as Julia frolics through a flower-filled field.
Their passion is accompanied, one hopes ironically, by lush romantic film music but is soon ended by a raid from a gang of thought police, who could have been drawn from almost any army of today.
The second act takes place as Winston is tortured by his former boss O'Brien, the gigantic shaven-headed Richard Margison, and eventually decides that five is four and ultimately that he really loves Big Brother.
Lepage has always been big on images and 1984 is filled with memorable ones. The very best are fittingly saved for Room 101. Here, we see Winston tortured on a machine like the innards of a jet engine. As he writhes, multiple gigantic images of his face flash up on a curved screen. From there, it is a mere turn of the revolve and we arrive in the padded cell where he confronts his worst fear. The rats are so creepy that many audience members must have thought about seeking refuge behind their seats.
In addition to the named trio, all of whom acquit themselves well, both acting (Keenlyside is particularly good as his character disintegrates) and singing, there is strong support. Lawrence Brownlee and Jeremy White have their moments as Winston's workmates but Diana Damrau almost steals the show. She has a stunningly beautiful voice that bewitches the audience and the populus as she delivers a lesson in vocal and physical callisthenics.
The libretto is sung in English with surtitles and still seems to be in progress judging by the differences between sung text and titles. It is rarely poetic, can be very wordy and at times, must be difficult to sing. It does though get the story across well enough but may be improved further before it settles.
The overall impression is that this is a memorable production that brings an important novel back into the public eye. The music and staging fit the atmosphere of Orwell's dystopia well and the ending, as Winston's defiance wanes and then disappears, is genuinely moving. It is compounded when he meets Julia a year later and they share a mutual defeat.
What will really live in the memory longest though are Lepage's stunning images and the atmosphere of a world of dread conjured up by a 75 year old composer/conductor achieving his dream.
For those that might be tempted but are afraid of opera, there are five more performances over the next couple of weeks and the prices are surprisingly low for Covent Garden (cheaper than Acorn Antiques!).
Reviewer: Philip Fisher