21st Century Creations / Modern Masters
Choreography Robert Battle, Jamar Roberts, Ronald K Brown
Alvin Ailey American Dance Theater
Sadler's Wells
–

Listing details and ticket info...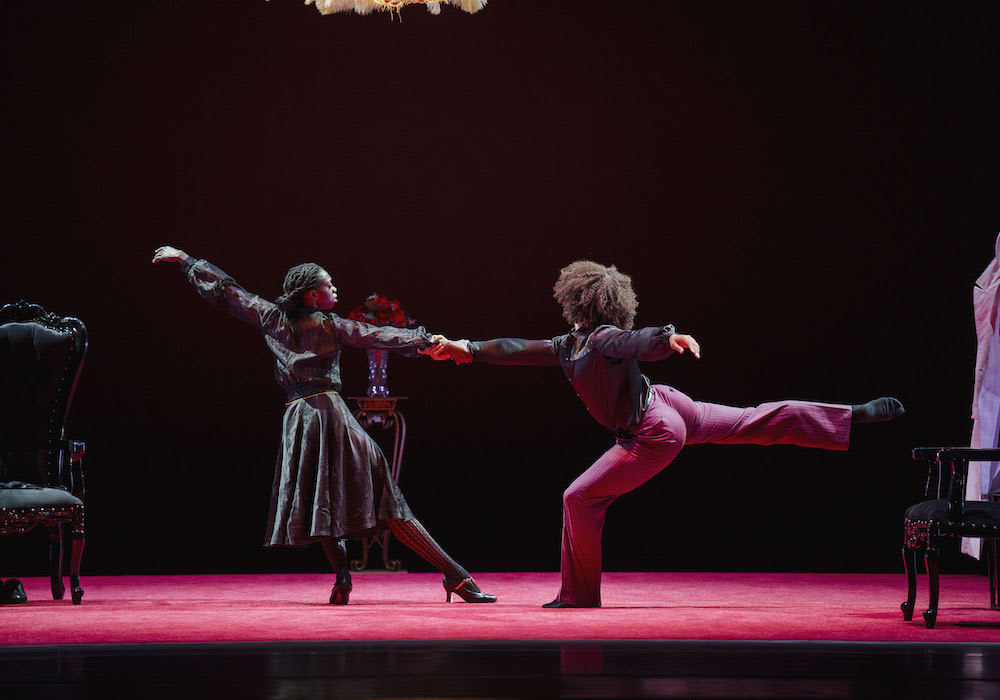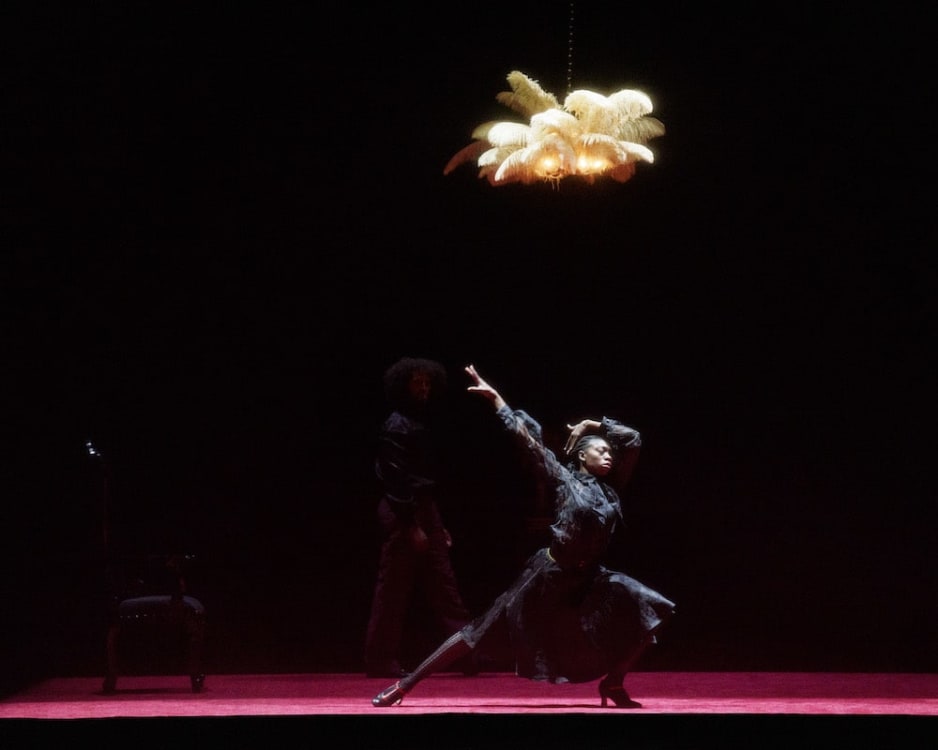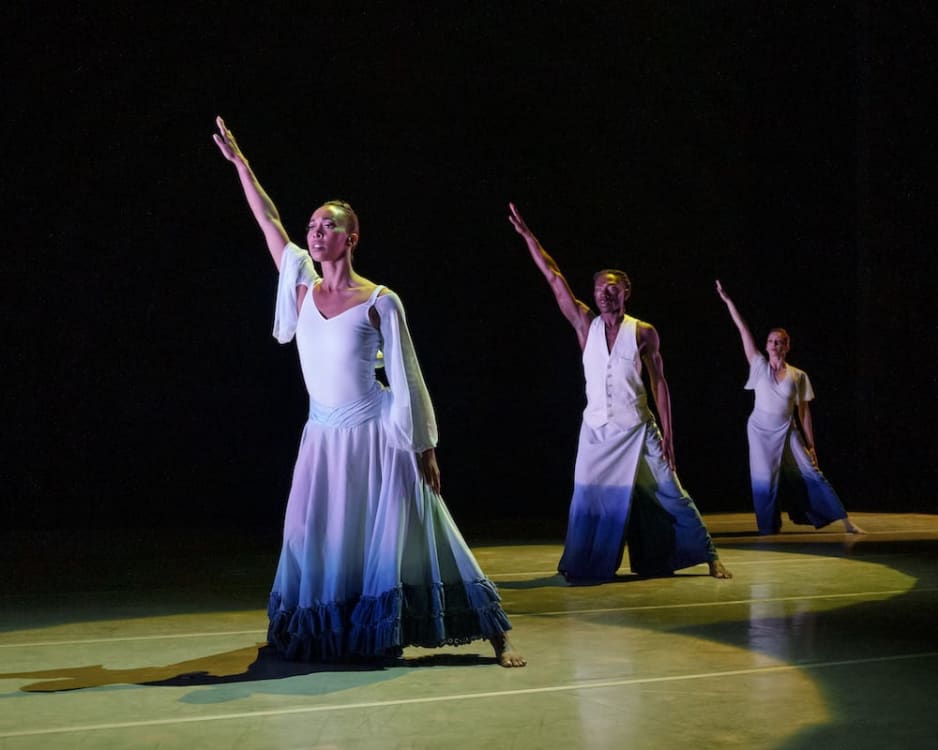 I'd like to know what happened to Twyla Tharp's Roy's Joys. Billed with Ronald K Brown's Dancing Spirit and Ailey's Revelations in the Modern Masters programme, it was replaced on its first night, and on the second night I had hoped to see it. Excuse was the usual "due to ill health". Looking at the mouth-watering images for Tharp's 1997 (in the Ailey repertoire since 2022) dance piece, I am disappointed not to have seen it performed by this outstanding company of dancers.
21st Century Creations, the third of the company's shows, also had changes in programme and cast. In the end, I didn't need to see my out of sequence Modern Masters, as it was repeating Dancing Spirit, Jamar Roberts's In A Sentimental Mood from 21st Century Creations, and the signature Revelations.
As it was, 21st Century Creations had also repeated Robert Battle's For Four (Ashley Kaylynn Green is superlative) and Unfold from the first night, Contemporary Voices. Which makes me think that they probably should have brought three programmes, as in 2019, and not these tautological overlaps.
So basically, I am reviewing two pieces, both new to me, Roberts's (the costumes and décor are his, too) world première of In A Sentimental Mood and Brown's Dancing Spirit, though Robert Battle's For Four and Unfold are eminently re-watchable. They are the hors d'oeuvre for the two longer pieces.
In A Sentimental Mood has a narrative—found in Duke Ellington jazz and Rafiq Bhatia's 'avant-garde' music—the end of a volatile relationship, a danse macabre of sorts. An elegant woman, after hesitating outside for some while, enters a darkly lit room with plush Victorian chairs, a table with a vase of flowers and a feathery chandelier.
A man (James Gilmer) is sitting waiting. She (Khalia Campbell) takes off her red gloves, white coat, scarf and hat, hangs them up and confronts him. She in black, he in black shirt—are they in mourning for what has been and might have been, laying it all to rest? Is their thrashing, flailing dance one of frustration?
He lies down; she covers his body with her coat… Ewan MacColl's 1957 "The First Time Ever I Saw Your Face" and Fein, Hudson and Mills's "There's Something About An Old Love" spell it out. As does Ornette Coleman's "Lonely Woman".
A three-act melodrama: she upturns the vase of flowers; he hands her a single rose; she rejects it. And I keep thinking of Edgar Allan Poe, but the programme quote is from James Baldwin: "Love is a battle, love is a war; love is growing up." There you have it—seething, controlled emotions.
Brown's Dancing Spirit, created in 2009, recreated in 2023, has something of the essence of Revelations, dance a life force, an expression and outlet for emotions. Eight dancers (nine listed) in beautiful individualistic costumes from Omotayo Wunmi Olaiya move to Duke Ellington, Wynton Marsalis, Radiohead and War in an unfolding passeggiata.
First in diagonal, in trio—when one is added to the end, the first has to leave. A game, an abstract collage, a simple pattern, but then it shifts, the lighting changes, the beat changes, the stage fills and the moves become individual, seemingly random, Cunningham-esque.
As patchworked as the music, as long as the night, the dance and mood shift again… we seem to have migrated to Cuba with an African Cuban beat. For me, this has finally warmed up. This is the dancing spirit that brings them together. The temperature rises, the heat is on: is it an exorcism? They can't stop. The moon rises; they keep on dancing in its silver light.
Apparently, Brown is paying tribute to AAADT AD Emerita Judith Jamison's influence "with a new work that echoes the title of Jamison's autobiography", summoning spirits from the past and present, an arc of her dancing life.
It's been a delight to cover the superb dancers of the Alvin Ailey American Dance Theater. They give a hundred per cent and more. I'm just surprised the theatre has not been full. They deserve to be seen by as many people as possible. They are here for another week—don't miss the opportunity, as who knows when they'll be back.
Reviewer: Vera Liber