The Two Character Play
Tennessee Williams
Jermyn Street Theatre
(2010)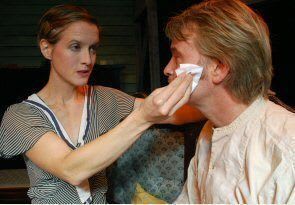 Tennessee Williams might not have written anything else quite like The Two Character Play but Luigi Pirandello certainly did.
While the characters are pure Williams, the situation is not. This play, first seen in London in 1967 featuring a fascinating pairing of Peter Wyngarde and Mary Ure, presents a gorgeous piece of surreal metatheatre. In it, we witness two actors drifting in and out of a failing play that lost its audience half way through.
To make the situation even less clear, neither of the characters, Clare and Felice is all there. She starts the play high on drink and prescription drugs, while, though he is not only an actor but also playwright and manager, her brother suffers from trembling insecurity.
The play that they are performing for the umpteenth time follows the fortunes of a pair of siblings in the hours after the shooting of their parents in a crime of considerable passion.
Since money is only a memory, the performing couple's fellow actors and stage management have walked, leaving the duo to re-write and re-direct their own Two Character Play on the hoof.
Catherine Cusack captures her character(s)' brittleness to perfection, in her more bemused moments facially looking uncannily like Stan Laurel. Paul McEwan also convinces as one of those true Williams protagonist who can never quite be called a hero.
For 90 minutes either side of an interval, the pair play entertaining theatrical mind games under the expert direction of Gene David Kirk, who is assisted by an evocative set, designed by Alice Walkling and lit by Phil Hewitt.
This may be Tennessee Williams in unconventional mode but thanks to intriguing characterisation and language packed with rich metaphor, The Two Character Play is certainly worth a visit for devotees of the writer or of theatricality more generally.
Reviewer: Philip Fisher