Two Cities
Music and lyrics by Howard Goodall, book by Joanna Read and Howard Goodall
Salisbury Playhouse
(2006)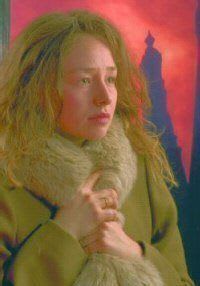 Howard Goodall's avowed intent in moving the European centre of his musical account of Charles Dickens' Tale of Two Cities from Paris to St Petersburg is to avoid at all costs Les Miserables 2!
In this worthy objective, it must be reported, he fails signally. The production which opened the new season this week at Salisbury Playhouse under the impressive direction of Joanna Read, author of this stage adaptation, looks like Les Miserables and, if only the composer could find tunes to match, it would sound like Les Miserables.
Politicians frequently quote the example of the elephant which looks and behaves exactly like it is. Perhaps there is a lesson here for composers.
Joanna Read's production is gripping, benefiting from a strong company of player singers who do full justice to Dickens' powerful story of the pitfalls of revolution. Their voices also show the Goodall score to good effect athough, barely an hour after the final curtain, one is hard put to recall a single tune.
In that aspect, of course, Howard Goodall is in illustrious company. Yet, in the light of this powerful tale of famous warriors, it is sad to note the total absence of a single tune of revolutionary fervour.
Here we are in the midst of, on the one hand, sentimental songs of Britain's Great War while, on the other, Russians shout unison choruses celebrating their new freedom. Yet nowhere on this stage is there a hint of a jingoism to be heard.
Yet there are colourful music hall and seaside touches from Laura Checkley and Emily Butterfield as Dulcie and Enid .The same pair revive the jollity of the British seaside at Paradise Sands.Not much cheer in St Petersburg however.
Ben Goddard is a personable polyglot in the role of Irtenev, the Russian who becomes English only to return to the revolutionary bedlam which so nearly did for his beloved Lucy's father, Dr Manatov.
Lucy, is played by the excellent Rosalie Craig, young veteran of recent musical productions at Salisbury, The Hired Man and Playing For Time. Hers is an outstanding performance in which a powerful voice is not her only asset.
A newcomer to Salisbury, David Ricardo-Pearce, also delivers a strong performance as the heroic failure Sydney Carton, and there is pathos in Glyn Kersake's refugee, Manislav.
Yet the ironies which tumble from this entertaining adaptation seem legion.
As Carton bewails the foolhardiness of Ireton's return to almost certain death. he is wearing the uniform of a British officer destined for Passchendaele, The Somme or something equally foul. And whereas in Dickens' version Carton gives up a comfortable life to do "a far better thing", this version simply swaps one terrible death in the trenches for another before the firing squad.
And therein, of course lies the unkindest cut of all. For in translation from the Bastille to the Slaughterhouse, we lose that memorable, sinister finale of two brave spirits at La Guillotine.
There are some fine, versatile settings by Sue Houser and an excellent orchestra directed by Dane Preece.
The production continues at Salisbury until 30 September.
Reviewer: Kevin Catchpole