Two Trains Running
August Wilson
Signature Theatre, New York
(2007)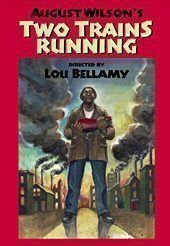 August Wilson is the great chronicler of the Black American experience during the Twentieth Century. He is also one of the best playwrights that the second half of that century produced.
Signature Theatre has a mission to produce seasons by the USA's finest and it is entirely fitting that, in the year after Wilson's death, they have dedicated a short season to his work.
His mammoth play sequence provides a play for each decade, all located in and around Pittsburgh with some loose connections between the plays.
Two Trains Running takes in place 1969 in a diner that has seen better times. Designer Derek McLane has created a very impressive set, heavily influenced by Edward Hopper's Nighthawks, which has been on display in town forming the centrepiece of a retrospective exhibition at the Whitney.
The restaurant contains a typical Wilson cross-section of humanity. It is owned by the excellent Frankie Faison's angry Memphis, a man who aims to get rich quick by selling up to the city which wishes to take the area upmarket.
The staff, with whom he constantly battles, now just consists of the epically funny Risa (January Lavoy). She is a woman who moves at snail's pace, except when she slows down, but has a heart of gold under a (literally) hurt exterior.
She has two admirers. Ron Cephas Jones is Wolf, who uses the diner as an office for his numbers racket, while Sterling, played by Chad L. Coleman, has just served five years for bank robbery and would like to go straight but finances will not permit.
Best of all, we are introduced to Hambone, a man who should be in care rather than the community but who has the kind of spirit that shines through almost mute inarticulacy. Leon Addison Brown looked exhausted by the end, having given his all in this very physical portrayal.
The larger picture is reported rather than seen. The two main motifs are the funeral of the legendary Prophet Samuel, a Martin Luther King type, and the rise of the Black Power movement, with all that it implies for these dispossessed and unemployed grandsons of slaves.
To add a little magic realism, when the men have problems, they are sent to visit the 322 year old Aunt Esther, the central figure of the last play written but first in the sequence, Gem of the Ocean, when she was a mere stripling of 250 or so. Those who believe in the old lady's almost witch-like powers are saved or enriched.
Like all of Wilson's work, Two Trains Running succeeds in conveying a period and its mood, through the actions and thoughts of a handful of extraordinary but ordinary people. It is well-constructed and funny but also very poignant.
This sequence of plays should last forever, partly because they address areas that literature and drama have largely neglected but much more since they are almost perfect examples of all that is good about theatre.
Two Trains Running has extended to January 28 and is followed until mid-April by the equally good King Hedley II, set in the 1980s.
Reviewer: Philip Fisher