365
David Harrower
National Theatre of Scotland
Lyric Hammersmith
(2008)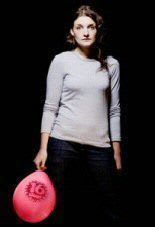 This Scottish work in the Edinburgh International Festival and then London seemingly had a lot going for it. The National Theatre of Scotland is still riding high after a fantastic couple of years and their partnership with David Harrower, whose moving Blackbird added an International Festival success to a long list of Fringe hits, raised hopes of another extraordinary evening.
Perhaps David Harrower tried to be too clever in his efforts to subvert conventions. 365 looks at 14 troubled teenagers in the early days after they leave the "units" where they have spent their childhoods.
These unworldly kids' chances of fitting into an alien community are slim, despite the dubious assistance of an ironically patronising voice-over guide to life in the real world and an underpaid, overstressed social worker.
Rather than using a normal narrative form, Harrower uses something closer to the style of much Verbatim work, cutting lots of relatively inconsequential stories in and out of each other without developing any far enough to get into the characters of the deeply troubled youngsters, whom he portrays.
Inter alia, we see an abused girl revisited by a hellish mother, a violent ménage à trois, a sweetly dysfunctional boy who should not be out of the care system, a materialistic Chinaman and two brothers, one on either side of a door.
The only one of the lot that seems to have any kind of hope for the future is a Congolese girl who, but for her nationality and displacement, would not have been in care to start with.
The cast members are almost all young and several performed well, especially stage debutantes Ben Presley and Marlene Madenge, well supported at different times by a number of others.
You sense that Vicky Featherstone does not fully trust the text, as she uses every trick in her expansive directorial book to enliven the two hours.
The staging is novel with flying doors and people, wide and narrow living spaces, both equally unsettling, and simple, non-naturalistic props by Georgia McGuinness, always with big symbolic gaps like those in the lives of these unfortunates.
The highlights might be Stephen Hoggett's wonderful, entirely characteristic movement/dance sequences, as often as not accompanied by the appropriately doleful 365 from The Blue Nile's Paul Buchanan with its repeated riff on "I can't give up on you".
The message is worthy - the community ought to take better care of those that have been institutionalised throughout childhood. Despite adventurous staging, the medium leaves much to be desired.
Reviewer: Philip Fisher