3Abschied
Anne Teresa De Keersmaeker, Jérôme Bel & Ictus
UK Premiere
Sadler's Wells
(2011)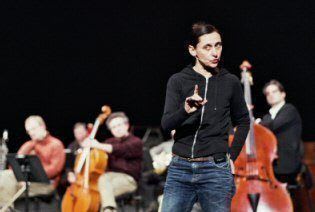 At the beginning of this month Scottish Ballet brought Kenneth MacMillan's Song of the Earth (1965) as part of their double bill to Sadler's Wells, and now we have a new exploration of Mahler's work from a parallel universe.
Anne Teresa De Keersmaeker and Jérôme Bel use only the final part of Mahler's six-part song cycle Das Lied von der Erde - Der Abschied / The Farewell, based on two eighth century poems by Chinese poets Mong Kao Jen and Wang Wei.
But there the similarity ends. In any case, Jérôme Bel doesn't like MacMillan's opus at all: 'I can't stand neo-classical, I think it is a dead-end in dance history.' Bel is about process, about the philosophy of dance.
Experimental and uncompromising in their inquiries, Bel and De Keersmaeker collaborate with Ictus, a contemporary music ensemble, and mezzo-soprano Sara Fulgoni, to explore whether choreography and dance can answer the question Mahler was asking about death and our acceptance of it in his music.
Can this masterpiece be rendered in dance? It seems not. In a lecture, a workshop, lasting a long hour and a half, De Keersmaeker illustrates her quest and failings in tripartite form. The music is listened to avidly, deeply, repeatedly.
She speaks intimately and oh so quietly about the demands on herself in wanting to choreograph to this music that moves her so much. And she wants to take us with her. Not everyone stays the journey. Some seem to find it hilariously funny, some vote with their feet.
That's what makes De Keersmaeker interesting - she is full of surprises. A diffidence that disguises temerity, and an honesty that could be seen as a form of arrogance, as she lays bare a 'private' quest.
Daniel Barenboim said it couldn't be done, but she is not one to give in, so she called her friend Bel, 'the realizer' of performance, the conceptualist, 'the deceptualist', the post-structuralist, to come to her assistance.
Ictus musicians sit centre stage in rehearsal clothes, and listen with Anne Teresa to a CD of the music (Kathleen Ferrier / Bruno Walters). Ferrier knew she was dying when she sang it. An acceptance of her fate in song... We sit and listen. That's the first third of the evening.
Then comes the lecture on how she wants to link it with ecological concern and aboriginal example. We are asked to read the text. She puts the lights up (mixing desk at the side) and waits - she gives us time. Patronising? Manipulative? Pretentious? Time ticks slowly. Is this absence of dance a metaphor? Absence / death?
Mahler wrote for an orchestra of 86, but 13-strong Ictus play it here in Schoenberg's 1921 transcription, and they do so beautifully. Fulgoni sings with expression that swamps the tiny choreographer/dancer.
De Keersmaeker moves amongst them, imitates their movements, knocks into chairs. Her minimalist gestures dull by comparison. Dare one say as commonplace as dancing alone in one's room? But that's the point.
Jérôme Bel walks on stage from the audience and it is his turn to address us - how to depict death? Have the musicians walk off as each part ends till the final notes die away? That doesn't work for him. Have the musicians die on stage?!... That brings forth silly laughter when they do just that - the cellist the last to drop.
Finally, Mahler's music is reduced to a solo piano. Now she can immerse herself, sing it softly to herself as she 'dances' her way through it. She learnt to sing Mahler's Song of the Earth - like climbing the Himalayas she says. She is barely in the foothills.
Clearing the stage of chairs and music stands, she explores its darker reaches, alone, failing, but failing better. Beckett was more succinct.
What the collaborators do succeed in is making us hear the music anew with a clarifying intensity. Deconstructive, far from romantic, and curiously child-like, this approach to Mahler's Der Abschied is not for everyone. Entertainment it is not, neither is it transporting - one is not lost in the music, which is put under considerable analytical stress. As is the audience.
Two performances only. Too esoteric for a wider audience? An acquired taste? Not an easy watch. Nor particularly satisfying intellectually either. Long periods spent gazing at Anne Teresa De Keersmaeker listening to the music, she on chairs on the stage, on steps by the stage - pour encourager les autres?
Conceptual navel-gazing. Elementary and elemental. Artful, ironic, parodic even, which can't be the intention. One wonders whether one is being taken for a ride. Épater la bourgeoisie… Hmm… 'Sometimes I think people are getting more and more clever watching us be more and more stupid.' (Jérôme Bel)
Reviewer: Vera Liber