3 in the Back 2 in the Head
Jason Sherman
Orange Tree Theatre, Richmond
(2005)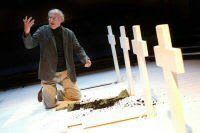 Canadian playwright Jason Sherman has written an engrossing political thriller based on the true story of his extraordinary fellow countryman, Gerald Bull.
The title refers to the configuration of bullets used by the CIA in 1990 to silence Rod Beacham's Donald Jackson, a visionary old man fighting a moral crusade to promote the Snowman. This is his oxymoronic "weapon of peace", a more humane alternative to the Strategic Defence Initiative or "Star Wars".
What could have been a dull, discursive play better suited to radio, is brought to dramatic life by director Adam Barnard who assists his writer by allowing scenes and times to melt into each other without a pause. His skill is in achieving this without ever leaving confusion in his wake.
Jackson's son Paul is trying to assuage his guilt over the old man's death. He is pointed towards a low-grade CIA agent, John Doyle, played by the wonderfully natural Kevin Doyle. Eventually, the story is pieced together like a jigsaw and, as it seems to be petering out, the much-decorated Ed Sparrow (played by Vincent Brimble) steps in with some critical and devastating information that shows a conspiracy worthy of Le Carré or Deighton.
Rod Beacham does a good job of portraying a man who is entirely committed to his cause but also to his invention, a missile that will disarm any other missile. He is both vulnerable and vitally determined to pursue his mission even at the risk of not only his own safety but that of his family.
Eventually, he is killed and defamed as a scientist who sold weapons to another nation. The fact that he was ignored in his own country and his only, rather naïve goal was world peace, matters not a jot.
3 in the Back 2 in the Head doesn't entirely work but it has enough going for it to sell out its run in Richmond. It is both intelligent and has that "page-turning" quality of the best spy novels - you want to know what will happen next. That can't be a bad recommendation.
Reviewer: Philip Fisher