Three Days of Rain
Richard Greenberg
Apollo, Shaftesbury Avenue
To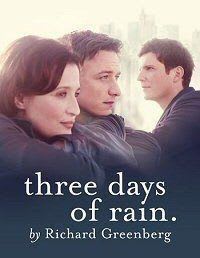 Jamie Lloyd's fresh look at what now feels like a contemporary classic is an almost unmitigated success. Indeed, it outshines the original British production a decade ago at the Donmar Warehouse starring Colin Firth and Elizabeth McGovern.
Soutra Gilmour offers a much more detailed set, a gloriously derelict Manhattan loft-apartment occupied by half a dozen pretty outlandish characters.
Richard Greenberg, mines history as he did in the current New York hit, The American Plan, but starting a few years later. However, he has constructed this evening to perfection with 1960 taking up the second half of a play that literally begins a generation earlier in 1995.
There, we are introduced to a contrasting brother and sister in a play of contrasts. They are the children of a mad mother and silent father, the latter an architectural genius on a par with Frank Lloyd Wright or Mies van der Rohe.
He has just died and brought together the siblings who have not met for a couple of years after unstable Walker deserted his life. Atonement star James McAvoy perfectly captures his character's hyperactive personality, which could not be further from that of his dull sister Nan played by Lyndsey Marshal, in a lengthy opening soliloquy.
As we subsequently discover, they are transgender clones of their parents. Jamie Lloyd ensures that the debate is fast and funny, as they catch up on recent events and talk of the future.
In fact, it is the more distant past that will be illuminated, initially when EastEnders' Nigel Harman as Pip bags the prize of a legendary house. This allows us the rare treat of seeing a soap star breathlessly satirising a motormouth soap star.
This handsome but shallow success is God's gift to everything, seemingly the perfect man. He is also a carbon copy of his father.
After the interval, the apartment becomes cosily habitable, shared by the fathers of this trio, talkative "genius" Theo and the necessarily more reflective (because of a stutter) Nick. There, they take the first steps to fame and fortune but, as we know from the will, a mystery must develop and be explained.
This centres on Miss Marshal, now given far more scope to demonstrate her talents playing Theo's intended Lina (pronounced like the ocean-going vessel), a colourful Southern belle in her prime.
Three Days of Rain does a fine job of allowing the present to explain the past, while at the same time doing the corollary. It manages to combine philosophy, passion and acute social and psychological observation with a little architecture and much comedy.
With these three stars and fine production qualities, including a superbly evocative rainy romantic moment of Hollywood kitsch, it deserves to remain on Shaftesbury Avenue for the long run.
Reviewer: Philip Fisher