Three Pianos
Rick Burckhardt, Alec Duffy and Dave Malloy
New York Theatre Workshop, New York
(2011)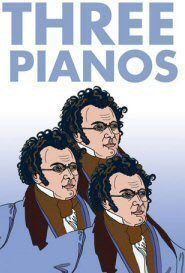 It is absolutely impossible to pigeonhole Three Pianos. During its two hour duration, it manages to be all of the following and possibly even more.
A recital of Schubert's song cycle Die Winterreise. This forms the core of the play (as the performers designate the piece). All three members of the creative team are talented pianists who also play other instruments. Their singing voices are varied and only that of Alec Duffy is really appropriate for this purpose. Dave Malloy sounds like a singer in a rock musical, while Rick Burckhardt either always has a rather under-powered voice or was ailing at the performance under review.
A play about three youngish New York guys looking for love and purpose, while bonding and bickering over a lot of alcohol somewhere like Manhattan's East Village. They also develop a mutual interest in playing and exploring Die Winterreise or The Winter Journey, which they are lucky enough to realise at New York Theatre Workshop.
A biographical play about the life and times of Franz Schubert, a prolific and magical composer who died of syphilis when aged only 31. These are explored both through his music and, in a generally jokey fashion, his friendships primarily with long forgotten poets and other creative types, viewed at parties that were known as Schubertiads.
A musical that features not only traditional arrangements of the songs played on one, two and three pianos but also variations using rock, jazz, a capella and other styles.
An excuse for all present on and off stage to drink a lot of wine, courtesy of a sponsor who believes that classical music/theatre devotees will like their finest red.
An evening of musical appreciation and criticism by the end of which, most viewers will know somewhat more about the intentions and techniques employed by Schubert and one or two other timeless composers.
An excuse for a stunning set designed by Andreea Mincic. This combines the winter wood through which the traveller in the cycle walks, a modern apartment, a town of the early Nineteenth Century and those eponymous pianos, which wheel around freely and are used as props as well as music makers.
With all of this going on, the trio who created and perform the play under the direction of the TEAM's Rachel Chavkin, ran the risk of getting lost in their own invention. For the most part, the concept works and this show has already become something of a cult favourite, which could easily tour or get franchised. They also somehow won an Obie after a brief run in early 2010 with Ontological-Hysteric Incubator, a company name that is worth the mention on its own account.
Inevitably, there will not only be something for everyone to enjoy but also to find irritating. The larky antics of three increasingly drunk friends can override the music but not too often, while purists will neither be impressed by the unusual arrangements nor the singing. In addition, the decision to skip several of the 24 songs merely because the boys don't rate them seems a little arch.
The evening as a whole is completely different to a standard night out at either the theatre or concert hall and because the music is good and the performers likable, Three Pianos is well worth a try for anyone who is not instantly put off by the concept.
Reviewer: Philip Fisher