The Third Man
Graham Greene, adapted for stage by Jonathan Holloway
Red Shift
Traverse Theatre, Edinburgh, and touring
(2005)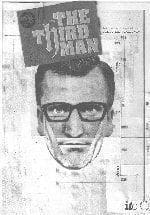 Rollo Martins (Antony Gabriel), a pulp novelist (genre: Westerns) travels to post-war Vienna to meet with his old school friend Harry Lime (Justin Webb). Upon arriving, Martins discovers that Lime has been struck dead in the street. Martins meets British officer Colonel Calloway (Andrew Forbes), and begins to think there might be more to his friends' untimely demise than meets the eye. As Martins tries to sort through layers of intrigue to the true cause of his friend's death, he discovers an ever-more-complicated web of deceit.
The Third Man is Jonathan Holloway's adaptation of Graham Greene's noir tale about love, loyalty, and murder. The story is a bit thin on the ground, but the cast does an excellent job of re-creating the melodrama and tongue-in-cheek nature of some of the best examples of film noir.
With the exception of the two leads, Colonel Calloway (Andrew Forbes) and Rollo Martins (Antony Gabriel), cast members play characters with a wide range of accents and mannerisms. Particularly enjoyable is David Matthews, in the roles of Crabbin and Dr. Winkler. In both roles, Matthews balances creepiness and sincerity, yet manages to keep the characters completely distinct.
An interesting approach the company has taken is incorporating the use of live video footage into the performance: four monitors are set at various points around the stage, wired to a small camera which cast members alternatively hold in their hands or attach to Neil Irish's Burtonesque set to give audience members a different perspective on the events unfolding on stage. This is the first time I've seen this technique used to incorporate video footage in a piece, and while it was certainly more effective than pre-recorded footage, there were times when I wish the company's decisions about what to show the audience and what angles to show it from had been a bit clearer.
The Third Man will suit any theatre-goer looking to sit back and enjoy a night of easygoing entertainment, but future productions of this piece might want to try pushing the boundaries a bit further, therefore making the production more extreme and even more engaging.
Kevin Catchpole reviewed this production at the Theatre Royal, Winchester
.
Reviewer: Rachel Lynn Brody