The Third Man
Graham Greene, adapted & directed by Jonathan Holloway
Red Shift Theatre Company
Theatre Royal, Winchester, and touring
(2005)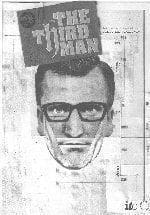 Harry Lime lives again! Jonathan Holloway's evocative production of The Third Man, currently at Winchester Theatre Royal, hasn't a mention of cuckoo clocks, nor any sound of zither. The latter despite the fact that two ladies travelled from Surrey specially to hear it.
Much more important is whether this is truly a stage account of Graham Greene's novel or, in the spirit of the recent musical treatment of Brighton Rock, a play of the film? Indeed, Holloway and the Red Shift Company achieve, as usual, a weighty piece of theatre, without pretending for one moment that Carol Reed had not existed!
Any company restaging a work whose very title conjures names like Welles, Cotton, Howard and Valli have their work cut out like the actor cast as Lady Bracknell. Add to this the stately ruins of post war Vienna, even more gloriously crumbling than seedy Brighton, and the task is formidable.
An honest reporter will say that Justin Webb does not remotely recall the charisma of Orson Welles, Anthony Gabriel, a likeable Rollo, is certainly without the presence of Joseph Cotton and that Siri Ingul, no match for the multi layered persona of Valli, is actually much closer surely to Greene's original concept of the devoted lover.
Andrew Forbes on the other hand, perhaps because his energies are focussed entirely on the role, is a cynical, no-nonsense Trevor Howard type Brit of the Allied powers type.
Nell Irish's tower truck settings, however, are the real star of this production, becoming steadily more like battered Vienna as the action progresses. It's not a pretty sight but then, by Greene's account, neither was post-war Vienna.
Holloway has plundered ruthlessly and effectively from those smokey, Brecht-like scenes of the film. Although the four TV screens fed by hand held camera might have been better exploited to point the rubble above and the sewers below.
After Winchester The Third Man visits Chelmsford Civic Theatre 11-12 Feb, Redhill Harlequin 21st, Margate Th Royal 22nd, Cirencester Sundial 23rd, Tunbridge Wells Trinity 24-26th, Buxton Opera House 28th, Shrewsbury Music Hall 1st March, Cardigan Mwldan 2nd, Milford Haven Torch 3rd, Builth Wells Wyeside 5th, Blackwood Miners Inst 7th, Aberdare Coliseum 8th, Bridgewater Arts 9th, Horsham Capitol 10th, Norwich Playhouse 11-12th, Farnham Frensham 14th, Harrogate Th 15th, Wolverhampton Arena 16th, Kidderminster Rose 17th and Bristol Queen Eliz Hall 18-19th.
Rachel Lynn Brody reviewed this production at the Traverse, Edinburgh
Reviewer: Kevin Catchpole