Three More Sleepless Nights
Caryl Churchill
RNT Lyttelton Theatre
(2009)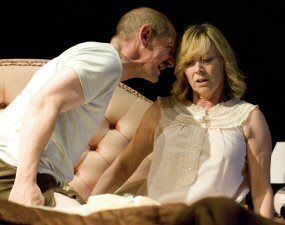 The National has developed the concept of pre-theatre theatre, performances of hour-long plays at 6pm on a set where the big event is lined up for 7.30.
In this case, a dowdy bedroom c.1980 has been laid over the crumbling Grecian location of Racine's Phèdre. This is the home to three pairings for whom insomnia is the least of their problems.
First up are middle-aged Margaret and Frank played by Lindsey Coulson and Ian Hart. It is hard to believe but they are the Caryl Churchill version of Alf Garnett and his Silly Moo.
Frank rolls in late and drunk to be assailed by a volley of invective from his long-suffering missus over a badly-hidden affair. He gives as good as he gets in the escalating warfare which looks as if it will develop into something physical.
The energy levels are amazing with the pair talking/shouting simultaneously in order to get the last word.
The second night starts silently and centres on Pete (Paul Ready) and his wife Dawn, played by Hattie Morahan. The younger couple's marriage is quieter, if not a lot happier.
Pete is closer to inducing sleep, as a film bore whose inane bedside chatter consists of retelling plots (Alien then Apocalypse Now) in tedious detail. The recipient is a wife who primarily communicates in groans and strange statements, which make one fear for her health and sanity.
Finally, there is a swap, as the better-matched Margaret and Pete pair off with every possibility of relieved happiness ever after. No chance.
He is soon boring for England again, while she is back to her true nature as an insecure scold. An abrupt ending suggests that their problems might only just be starting.
Three More Sleepless Nights, which is directed by Gareth Machin, lasts around 55 minutes but is still a closely observed work about human nature and relationships. One could easily conclude that Caryl Churchill, who, particularly in the first scene, is both very perceptive and highly amusing, has a jaundiced view of marriage.
There are only ten performances of this little known play and at £10 for all seats, it could prove ideal as a curtain-raiser to a night at the theatre or an appetiser before a hearty dinner. Just don't take the spouse if you are the least bit insecure.
Playing until 24 August
Reviewer: Philip Fisher