Three Women and a Piano Tuner
Helen Cooper
Hampstead Theatre
(2005)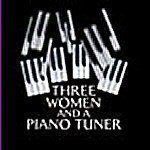 Three Women and a Piano Tuner is a beautiful, ethereal piece about music, motherhood and abuse. It can be obscure but thanks to a careful structure and superb acting from the trio of actresses, it eventually achieves its goals.
With its recurring motifs and very strong symbolism, the play is reminiscent of a Piano Trio that constantly works away at simple ideas without ever becoming completely transparent.
The Three Women of the title embark on a mutual search for a meaning to their lives, which is signalled by the image of a bird-like Godot with baby-bringing abilities, a stork that is sought but never appears.
Now in their early forties, the three women, Ella, Liz and Beth are in some ways all parts of a single Elizabeth. It is not entirely clear as to whether they are indeed different facets of a single woman or whether their upbringing is so close as to make their experiences almost indistinguishable. In any event, by meeting the others, each is now forced to face up to current frustrations and consider what might have been.
From the ages of six to eighteen, they had trained as professional pianists, each clocking up some 15,000 hours of practice time in an effort to become concert soloists. They had done so under the auspices of the rather sinister, depressed Father, seemingly an honorary title rather than anything more. In each case they became pregnant and this defined their lives.
It was on graduation that they had their own decisions to make and chose the three separate paths that came to define their later lives and gave them both their joys and sadnesses.
The first act of this short play, barely an hour and three-quarters including an interval, consists of chit-chat around the kitchen table enlivened by intimations of sex and death. It climaxes with an outlandish proposal for a joint venture utilising the assets of each of the ladies. This is merely preparation for the revelations after the interval.
Jane Gurnett's Ella, the hostess, chose to keep her baby, a son Harold played by Gareth David-Lloyd, who twenty years on has become the silently beautiful piano tuner of the title. She is clearly unfulfilled and the reason for the meeting is her announcement that she has written a Piano Concerto, ten years in the making, and will require the collaboration of her childhood friends for its public performance.
Eleanor David is the wisecracking Liz, who chose abortion rather than motherhood in order to ensure that she would have a career as a world famous pianist but is now prostituting her talents (and implicitly herself). Miss David demonstrates considerable skill both as a comic actress and on the Steinway that graces the stage during the second act.
Beth, played by Phoebe Nicholls is "the rich bitch who coughs up all the money". She gave up her baby for adoption and this enabled her to marry rich know-it-all William, a multi-millionaire whose funds are required to hire the hall and pay the orchestra. Despite her wealth and glamorous lifestyle, practical Beth is little happier than either of her friends.
The rehearsal room allows them to explore their own lives and what might have been, as they collaborate in the production of Ella's musical dream. It is also a platform for investigations into the behaviour of Father so long ago, which ultimately left all three women pregnant and might or might not have contributed to the death of Ella's sister Jane.
Director Sam West has been well served by composer Jason Carr and his designer, Ashley Martin Davis. The latter hides the lack of physical action by creating a superb set that transforms from a kitchen to a concert hall during the interval. The realism of the main playing areas is offset by criss-crossing piano strings from floor to ceiling and an abstract skyscape featuring what might be the Tate Modern chimney, complete with shadowy pianist.
After a slightly slow start, Three Women and a Piano Tuner becomes a beautifully judged piece that is a credit to the whole production team. It has already proved a success at the Chichester Festival Theatre and is one of the finest works that Hampstead Theatre has seen for some time.
Reviewer: Philip Fisher