40 Years Paines Plough
Matt Trueman (Editor)
Paines Plough
(2015)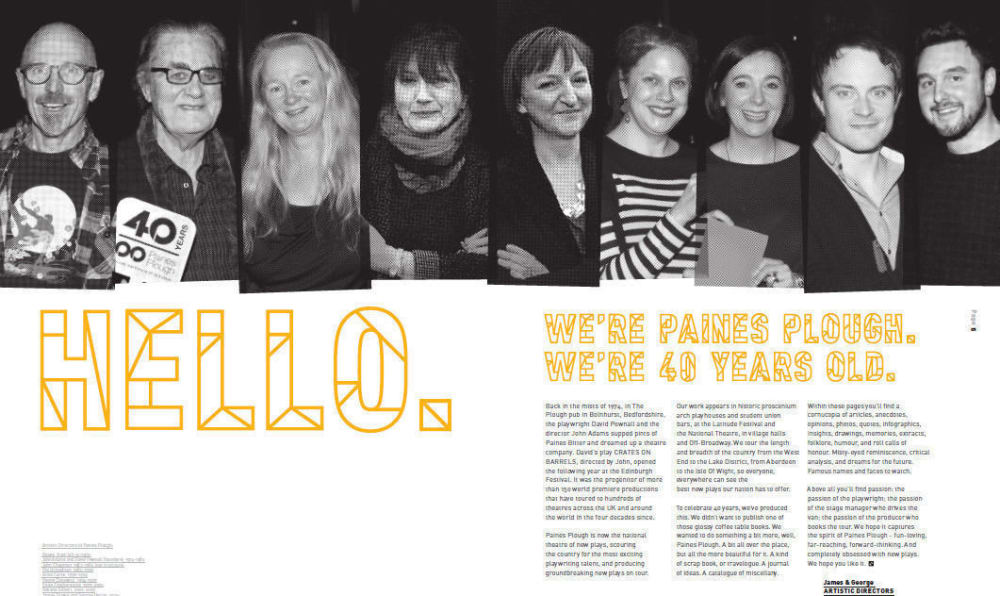 It says much about Paines Plough that when its current Artistic Directors James Grieve and George Perrin decided to create a physical theatre for the first time the company's history, they invented the Roundabout which has no permanent home and tours to unlikely locations.
For 40 years, the company has concentrated on new writing, requiring contributors to sacrifice sleep, money and sanity in exchange for being part of one of the most exciting theatre collectives to operate in Britain since the mid-1970s.
Where the average institution would have commissioned a formal history to mark such an occasion, Paines Plough has put together an eclectic scrapbook of thoughts, memories, photos and memorabilia, which together are intended to convey the spirit, successes and failures during the wild rollercoaster ride that has characterised their existence.
Founded by David Pownall, John Adams and Chris Crooks quite possibly over one beer too many in a country pub, the early days sound tortuous, with life lived from day-to-day and every chance that the company would fold.
Since then, it is gone from strength to strength invigorating British theatre and providing opportunities to many of the most influential members of the industry from that day to this.
From the very start, the principle was to create exciting, challenging theatre and tour it to venues far and wide, thriving on the chance to work in unexpected locations rather than buildings established specifically for the purpose.
In 100 pages, editor Matt Trueman and his sponsors have attempted to allow a wide variety of individuals to explain what Paines Plough has meant to them. While this inevitably includes Artistic Directors, including the likes of Vicky Featherstone and the current incumbents, there are also contributions from far and wide.
It is helpful to be reminded that actors of the quality of Stephen Boxer and Dame Harriet Walter learned their trade here.
When it comes to playwrights, the list of fans can hardly be more distinguished, including the likes of Stephen Jeffreys and Sarah Kane from a slightly earlier generation to Gregory Burke, Mark Ravenhill, James Graham, Mike Bartlett and Duncan Macmillan bringing us right up to date.
One has to ask where new writing in Britain would be today without the nurturing qualities of a company that has produced playwrights without whom the National Theatre and the Royal Court would be struggling for some of their most exciting output.
While the bigger names are given plenty of space, this A4 sized publication also allows unsung heroes such as production managers who typically would sleep for about three hours a night, to make their own contributions. In doing so, they remind us that travelling around presenting theatre from the back of a van is not all sex, drugs and rock 'n' roll, though those constituents may all have been part of the experience.
Fans should definitely try to pick up a copy of this book but, more importantly, they should also make an effort to visit the Roundabout when a company that proudly dubs itself "The National Theatre of New Plays" comes to a field, sport centre or theatre nearby to enjoy what is still some of the best new theatrical writing on show in the United Kingdom.
Reviewer: Philip Fisher