Forty Winks
Kevin Elyot
Royal Court Theatre Downstairs
(2004)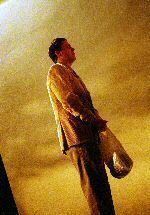 Kevin Elyot is best known for his multi-award-winning My Night with Reg; more recently, he has had another Royal Court success and West End transfer with Mouth to Mouth. His latest play is like a game of Unhappy Families and deals with similar areas of social unease.
In only a little over an hour, this elegiac tale spans thirty years and three generations of a family who cannot avoid repeating their mistakes, almost as if they were genetically imprinted.
The catalyst for the action is globe-trotting Don, well played by Dominic Rowan. He is a man loved by almost all with the primary exception of himself.
As the play opens, Anastasia Hille as barrister Diana is trying to relive her teenage affair with Don and thus wipe-out the terrible unhappiness of her marriage to awful, bearded Howard (Simon Wilson playing a disappointed cricket goods salesman).
Elyot slowly reveals the crushes that everybody feels for Don. Diana is followed by her doomed, gay brother-in-law Charlie, a most amusing cameo from Paul Ready, and his Irish cardiologist lover Danny, Stephen Kennedy. Chillingly, her possibly abused, narcoleptic 14 year-old daughter Hermia may also be a victim.
By the end and a further generation down, Celia, like her mother Hermia, played by Carey Mulligan, is about to become entranced as well.
The production is enhanced by Katie Mitchell's characteristic direction, Paule Constable's lighting and in particular a lovely set designed by Hildegard Bechtler that transforms from a grungy Motel Room to a terrace outside a house on Hampstead Heath.
Forty Winks paints a portrait of the ways in which people allow themselves to be drawn into unhappiness and then unavailingly try to escape, like flies in a spider's web.
While it touches on obsessional love, death and abuse, it does not investigate any of them in depth. It is often amusing but despite its intricacies and mysterious secrets, it is rather slight and must therefore be regarded far more as an entertaining sketch than a fully realised, major play.
This review originally appeared on Theatreworld in a slightly different version
Reviewer: Philip Fisher