42nd Street
Book by Michael Stewart and Mark Bramble; Music by Harry Warren; Lyrics by Al Dublin
Mayflower Theatre, Southampton, and touring
(2007)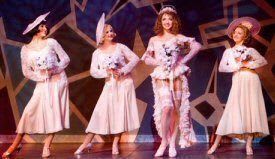 Busby Berkeley was never famed for dancing or choreography – rather for his flair for formalised patters and use of unorthodox camera angles.
Nowhere is his talent better demonstrated than in Warner Bros 1933 talkie musical, 42nd Street, nowadays screened only by television on wet winter afternoons. It is thanks to this classic piece of old cinema that we enjoyed the 1980s Broadway extravaganza, later revived in the West End and now restored by director Mark Bramble.
Gower Champion choreographed the dances for New York (he died soon after the premier) and for the revival which reached Southampton's Mayflower this week, the choreography is by Graham Henderson.
Today's show still revives memories of a dynasty of talent. From such 'thirties "greats" as Warner Baxter (director Marsh), Bebe Daniels (Dorothy), Ruby Keeler (Peggy) and Dick Powell (Billy), the West End account boasted the likes of Frankie Vaughan ( as Marsh) in what was sadly to prove his last performance), Jean Simmons (Dorothy) and Katherine Zeta Jones as Peggy. This latest production brings to the modern stage Paul Nicholas, Julia Nagle, Jessica Punch, and the young dancing star Ashley Nottingham in the role originally played by the star of many a film noir, Dick Powell.
To say Bramble's production lacks the élan of the first West End version may seem hard, yet no more so than to admit that The Mayflower is not Drury Lane.Bramble, however, brings a hugely talented cast, together with a splendid orchestra directed by Gareth Williams
Yet the real hero remains the man who, despite the fact that we have been humming his tunes for years, remains widely unknown – composer Harry Warren. Be honest now, could you name him?
Yet the strains of Young and Healthy, Shadow Waltz, You're getting to be a habit, Keep young and beautiful, I only have eyes - and that's only the first half – have been with us a lifetime and carried us through WW2.
There are lovely performances from Julia Nagle as Dorothy and Shirley Jameson as Maggie and some great dancing from the young Jessica Punch as Peggy. But then this is a show made for a chorus girl who became a star. After all, remember Zeta-Jones!
Stephen McGann, who has taken over from Paul Nicholas, is an heroic Marsh – so long as you don't remember Frankie Vaughan. Which is no more unfair than remembering that Edith Evans played Lady Bracknell?
Personally, I would like to hear more of the rhythmic feet of those Busby Berkeley girls. We do get some excellent tap, and there is one splendid "mirror" scene. Nor do we get all the words that we would like, such as in the catchy Shuffle off to Buffalo, yet the nostalgia is out in bucketloads for those of us who care to, or can, remember
That's show business – which, after all, is what 42nd Street is all about.
Katharine Capocci reviewed this production, but with Dave Willets in the leading role, at Sunderland Empire
Reviewer: Kevin Catchpole