49 Donkeys Hanged
Carl Grose
Theatre Royal Plymouth
The Drum, Theatre Royal Plymouth
–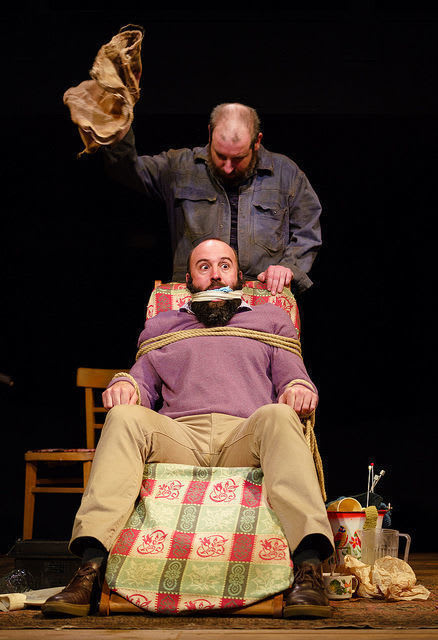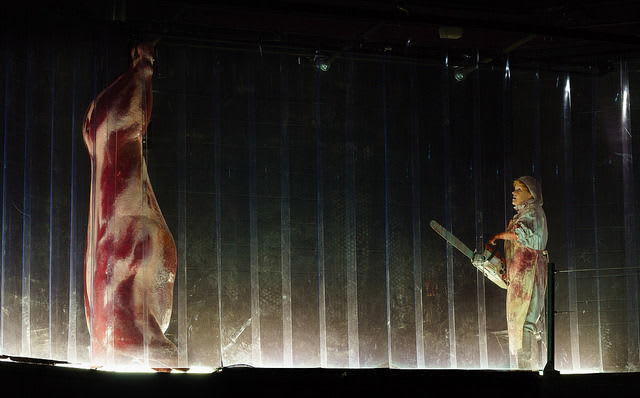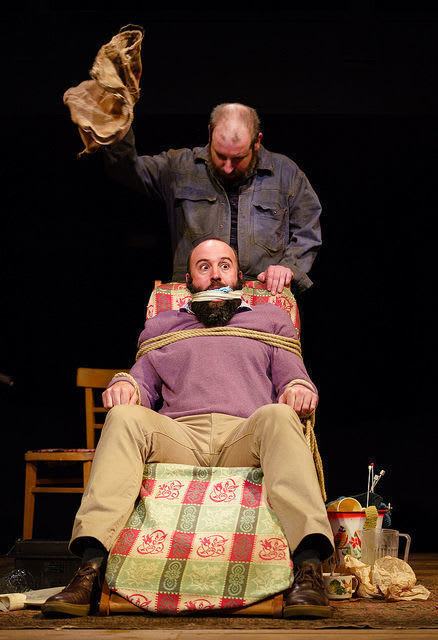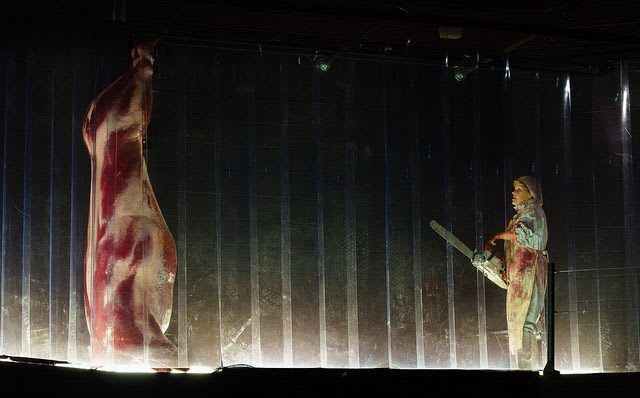 Summin strange is certainly goin' up down Bosanko Farm… and playwright Carl Grose is definitely to blame.
The homegrown writer (Horse Piss For Blood, Grand Guignol with TRP / Dead Dog In A Suitcase and more for Kneehigh Theatre) has stolen the story behind the somewhat arresting headline "49 Donkeys Hanged" spotted in South Africa in 1999. And this clever, frustrating, unsatisfactory piece is all about ownership and theft.
Transporting the premise to rural Cornwall, and adding some gruesome touches, comic turns and a bit of a whodunnit, Grose has created a vehicle to explore how a story is created and just who or what is the directing mind.
Miserable Stanley (a downbeat Ed Gaughan) is stealing donkeys to satisfy the disembodied voice urging him to string 'em up—and thereby hangs the tale. The curmudgeonly farmer is lord by proxy of all he surveys and that is falling into wrack and ruin. He doesn't much care any more about anything except his macabre mission, a welcome relief from his humdrum existence and unbearable secret.
Stan's hunt for his next victim delivers him, not for the first time it would seem, into the bloody hands of Slaughterhouse Sal (Buffy Davis who extracts every last drop from the gift of a part), whose ability to eviscerate a cow with a Chippie XXL is second to none.
Aunt Ada Doom-esque wife Joy (an absolutely on point Veronica Roberts) is tiring of self-imposed, grief-stricken incarceration—and probably boiled eggs—after 30 years in an armchair (don't go there on the obvious questions though that perhaps explains the breakfast choice).
Thirty years ago this very day, 12-year-old Bobby disappeared while playing in the Blasted Oak and he still hasn't turned up despite the annual offering of Grizzle's special pasties (complete with that 'je neigh bray quoi'). With the sudden worrying absence of her only delight—a cute furry donkey in the distant meadow viewed from the soon to be boarded up window—it is time to return to the real world. Much to Stan's dismay.
William Hartley plays puppetmaster Grose, catapulted into this fetid mire struggling to understand how, as writer, that can be. With tremendous eyebrow acting, bewilderment gives way to horror as his unfinished story is hijacked and the tables are turned. Confused? It works.
Add Joe Shire as the original perpetrator behind the headlines and his (unsatisfactory) story plus tremendous roaming musician and bit player Dom Coyote and all the ingredients are assembled for a cracking show.
But somehow it misses the mark. Some overlong speeches, clunky delivery and oh so many frustratingly unanswered questions (or are those loose threads cunningly indicative of the switch of controlling mind?) are offset by some delightful moments, a talented cast and Bob Bailey's all-encompassing set: two raised platforms, empty space between strewn with hay bales for the audience to meander about—no seating here, wear comfy shoes—and a brilliant upper storey abattoir production line. And hats off to Coyote's, at times sickeningly heart-wrenching, sound design.
Interesting idea, botched execution.
Reviewer: Karen Bussell