Four Nights in Knaresborough
Paul Webb
Riverside Studios
(2005)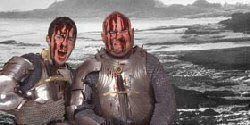 Paul Webb has been going from strength to strength since this, his first play, was produced at the Tricycle in 1999. As well as trying to convert it onto celluloid, he has also been commissioned by Steven Spielberg to write a script about Abraham Lincoln.
This is an amazing first play with great ambition and scope. It tells the tale of the knights who murdered Thomas à Becket in Canterbury Cathedral in 1170, at the behest of King Henry II. It can therefore be seen as a companion piece to both Anouilh's Becket (seen in the West End last year) and Eliot's Murder in the Cathedral.
Told in slangy, contemporary language, the story covers sexual and political matters in depth and also delves into the characters of these four contrasting men and the woman who looks after them.
After escaping Canterbury, the group are holed up in West Yorkshire at the Castle of Hugh de Morville. This tubby, round-shouldered knight is played by co-producer, Demetri Alexander. He is a respectable man who somehow, mainly through his acquaintance with his more dangerous colleagues, has found himself wanted for murder.
With him are Ken Bradshaw, excellent as Traci, a knight of confused sexuality and great bravery; the other co-producer Piers Ronan, incredibly irritating as the brash Brito, a man whose interests do not stretch far beyond his penis, and the humourless Fitz (Peter-Hugo Daly), who actually struck the deadly blow.
They are kept in place by Catherine, played with calm sincerity by Juliet Howland, a widow who has given up her home to look after de Morville and saves them all as a result of escaping a ducking as a witch.
Agnes Treplin's design shows remarkable solidity and sets the scene nicely and somehow she has managed to acquire the necessary pieces of armour, even if four identical helmets have proved too much.
The storyline and script are both fascinating and entertaining with much comedy derived from the use of modern language in medieval times. However, Peter Farago's direction is too often pedestrian with periods of inaction and both the lighting and fight scenes could be improved.
At its best, Four Nights in Knaresborough has touches of Les Visiteurs and Blackadder with some pretty serious history thrown in for good luck. It proves an enjoyable two-and-a-quarter hours and is recommended but should have been so much better.
This production has been reviewed by David Chadderton at the Octagon, Bolton, and Rachel Lynn Brody at the Traverse, Edinburgh.
Reviewer: Philip Fisher