50 Ways to Leave Your Lover
Leah Chillery, Ben Ellis, Stacey Gregg, Lucy Kirkwood and Ben Schiffer
Bush Theatre
(2008)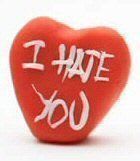 50 Ways to Leave Your Lover is an unholy mix of verbatim theatre, improv, stand-up, sketch show, song and theatre, all played out on an unfinished set. Above all though, it is great fun with at least odd glimpses of deep meaning underlying the laughs.
In some ways, it is like a Chinese meal with jokes and sketches literally numbered, although not sequentially. The analogy goes further because at the end of a packed hour you come away wanting more, though that is because of the quality of the show rather than a feeling of inadequate mental sustenance.
The seeds of this meditation on being dumped were requests for the public to provide stories about ways in which relationships had ended.
What was originally intended to be a show making brief appearances at the Latitude Festival and then in London has got great word of mouth and is now filling the Bush for three times as long as the original one week run.
Director Anthea Williams has been lucky enough to get a really excellent cast, who work as a perfect team. They clearly enjoy themselves while giving the audience great pleasure and the odd moment of recollected pain.
The quality shines through from the opening scene in which Michelle Terry tells the story of Romeo and Juliet from the previously unexplored viewpoint of Rosaline, Romeo's ex.
From that point on, the thrills and spills, penned by five talented young playwrights, never let up. Ralf Little from Two Pints of Lager .... proves to have both great comic timing and also ability as a singer of Arthur Darvill's songs. Some of his finest moments come in partnership with Kobna Holdbrook-Smith as they deliver some top-notch comic raps.
The final member of the team, Claire Keelan, stars in the one really poignant sketch as a jilted junkie whose devastation seems close to life-threatening.
She also plays in one of two running gags, as Kate who keeps her partnership with Ralf Little's desperate-to-be-ex together, as a result of a series of misfortunes.
Other gems include a soft porn gym girl, Felicity who up breaks by calm, mutual agreement after 25 happy years, Ralf Little in the dock after his character's revenge went a bit too far, and a true highlight, a swingers' party that shows Kobna Holdbrook-Smith off to shocking effect and allows Claire Keelan to vamp for England.
The original intention might have been serious but wisely everyone involved seems to have decided that the best use of this material is to amuse. And they do - over and over again.
We must hope that this scratch production gets an extended life. It would certainly be a great hit if it ever made it to Edinburgh.
Reviewer: Philip Fisher