55 Days
Howard Brenton
Hampstead Theatre
–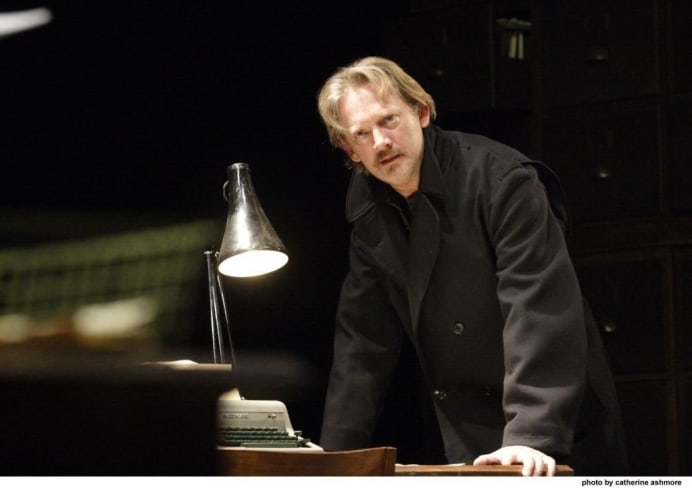 Most Englishmen will have learned the basic facts underlying the civil war, which raged through the country during the middle of the 17th century, at school.
On the one side, were the glamorous Cavaliers supporting King Charles I, on the other the dour Roundheads of Oliver Cromwell.
This is the subject matter of Howard Brenton's new play, which is acted out between two banks of audience members, symbolically divided by a wide traverse.
In Howard Davies's production, much of the spectacle is sacrificed in an attempt to introduce a modern milieu, with the costumes and language very much contemporary. There is, however, a single exception as Mark Gatiss playing a somewhat stylised, vain, supercilious King wears costumes from an time 350 years earlier than those of everyone else on stage.
This somehow seems appropriate since his attitudes also hail from a different era to everyone else. While the King is a great believer in the power of God, he has no doubt that this has been deputed by divine right to God's representative on earth, King Charles I.
Ranged against him are a variety of individuals with their own sectarian religious beliefs, brought together by Douglas Henshall's Cromwell, a driven out, frankly dull man who always thinks carefully before making strategic decisions that usually pay off.
Much of the first half of the play introduces the ideas and competing interests that primarily serve the two key men duelling with each other while hundreds of miles apart, seeking advantages through the medium of Parliament, which each believes that he controls.
The debates in these exchanges are frequently wordy and only slowly focus in on the key confrontation that takes place after the King is arrested.
Court cases almost always make for good theatre, although in this instance it is first necessary to establish whether Parliament has the right to try its disdainful King. This becomes more complicated since every self-respecting lawyer has run for the hills, leaving an odd pairing played by James Wallace and Tom Vaughan-Lawlor behind to decide over the most important decision in the country's history.
55 Days reaches a dramatic zenith when Cromwell and the King meet to debate which of them is more divinely blessed. At least on earth, the predictable conclusion occurs but it would be fascinating to know how the pair fared when they ascended or descended, as the case may be, to another world. One can be assured that neither would have been in any doubt about his own rectitude when faced with St Peter or Lucifer.
The drama works best as an exploration of two conflicting personalities, though for those interested in the topic it will also provide a personalised history lesson regarding the traumas that divided a country to the extent that husbands and wives, such as Lord Thomas and Lady Anne Fairfax played by Simon Kunz and Abigail Cruttenden, ended up on different sides of the debate.
Reviewer: Philip Fisher