The Five Wives of Maurice Pinder
Matt Charman
RNT Cottesloe
(2007)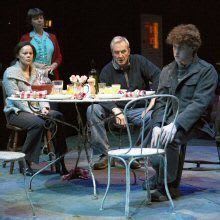 Henry VIII may have had six wives but at least he married them sequentially. The eponymous protagonist of Matt Charman's comedy of contemporary manners attempts to run five simultaneously, though legally as he divorces but retains the older models.
As the lights come up on Ti Green's attractive tripartite set, he is just introducing number four to the extended family. The design, which is one of the evening's delights and brings to mind that for Humble Boy, is of necessity substantial and comprises suburban house and garden (with caravan) in a long traverse.
Against all likelihood, the quartet of "wives" get on like a house on fire, each of the women making up part of a whole. This means that at times, they seem more like different facets of a single woman than separate souls, and that may well be Matt Charman's point.
Larry Lamb plays Maurice, a successful Lewisham scaffolder who has put together an extended family commune in the same way as he does his structures.
Sorcha Cusack plays Number One, Esther the Earth Mother; the star of the evening; Clare Holman gives a multi-textured performance as slutty, insecure Fay; Martina Laird is the West Indian who wanted a man to father a child, while Carla Henry is the battered and pregnant young newcomer welcomed by all. They are also bolstered by someone or other's bright if whiny teenaged son, Vincent, stage debutant Adam Gillen acquitting himself well.
So far, so good, if you ignore boring planning inspector Jason (Steve John Shepherd), who arrived for a one afternoon stand with fading Fay and quickly becomes a self-appointed moral judge on behalf of the council and, by extension, society.
This is a recipe waiting to be overcooked and the magic ingredient appears after the interval in the person of Irene, Maurice's office manager played by Tessa Peake Jones. She is a clichéd control freak who unravels years of multi-connubial bliss in a few months of ultra efficiency.
By the end, poor old Mo is back to monogamy with Number One and we are left to ponder the message of the play. Maybe Charman believes that monogamy is good, maybe that all women are made up of different parts or possibly that the male fantasy of a wife for every night of the week is not all that it is cracked up to be. We may never know.
Like Charman's first play, A Night at the Dogs at Soho, The Five Wives of Maurice Pinder is a situational comedy that never really takes off. There are funny moments and the concept promises much but somehow it does not achieve as much as it should, either for comic effect or human interest.
Reviewer: Philip Fisher