6000 Miles Away
Choreography by William Forsythe, Jirí Kylián, and Mats Ek
Sylvie Guillem / Sadler's Wells co-production
Sadler's Wells
(2011)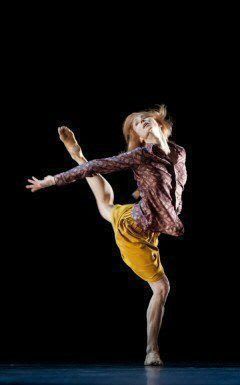 July's premiere of 6000 Miles Away was sold out and even press tickets were rationed. A return was promised. Here it is - less of a scramble, less of a fuss - waiting brings its own rewards.
An étoile since the age of nineteen, now in her mid-forties, Sylvie Guillem chooses her collaborators intelligently - she knows her own body: "Of course my body is not the same it was 20 years ago, but it's not bad."
Matter of fact, she does take more care of it now, and, by Jove, it shows. Talent, experience, strong will, incredible mastery of a finely tuned instrument, whatever she undertakes is worth more than a glance. Guillem admirers would watch her fight her way out of a paper bag.
For this Sadler's Wells / Sylvie Guillem production, she has chosen choreographers she has worked with before and knows well, William Forsythe, Jirí Kylián, and Mats Ek. This familiarity and ease in the dance roles specially created for her reflects in her performance. The stage is her natural habitat.
A perfectionist, who makes huge demands on herself, she also commands intense attention from her audience. One watches closely every inflection, every complex sequence, every tiny movement, precision the key factor.
To a score commissioned from David Morrow, William Forsythe created a new duet for her and Paris Opera Ballet étoile Nicolas Le Riche in July. For the performances in September, Massimo Murru, one of Teatro alla Scala's stars, takes Le Riche's place in Rearray.
Dressed identically in grey trousers and black tops, mirroring each other's moves, spinning off into independent solos, on Sadler's Wells' unadorned empty stage, under dim lights, they look small, modest, but vital.
A leg moves to the side, and the body follows, gyroscopes, intricate clock mechanisms connect, instigate and motivate the next move. Music tinkles, glass mobiles catching against each other perhaps, abstract moves seemingly improvised, unique, infinite volatile movement their raison d'être.
Sequences are broken up by lights going out then coming on - another mechanism, a camera shutter - we see what Forsythe allows us to see. Piece it together however we can. The eye is made to concentrate, and the ear, too. Forsythe, now known as much for his installations as for his choreography (his own lighting and costume designer here), turns Rearray into a Gesamtkunstwerk.
An inscrutable twenty-five minutes, exact and exacting. Kinetic sculptures, attracting and repelling, in unison and apart, an Eadweard Muybridge analysis of how movement is made, liquid fluency and superhuman control. Time and motion, and the aura it leaves behind.
The next piece is not for Guillem, but to show off the talents of Aurélie Cayla and Kenta Kojiri, both formerly with Nederlands Dans Theater, where Jirí Kylián was Artistic Director from 1975-1999. Handpicked by Kylián for his 2002 piece 27'52", its title representing the length of the piece, they are a revelation.
Topless (she takes off her red top), in black tight trousers, two people the same but different, very like the previous couple, in a study of time and space. Again the music, by German composer Dirk Haubrich, is created specifically for this piece - fractured spoken text in German and French, some played backwards, supports the action. One catches the odd phrase, but does one take it literally?
Some emotional struggle is going on. The couple seek each other out only to push away. A dreamscape? Floor covers are pulled over heads, are they sleeping or from another world? Hide and seek? Hands signal, body language tells another story, flying, spinning. Skin on skin, playful and cruel, we have but a moment then we are gone.
Bye (Ajö), Mats Ek's new solo for Guillem, speaks of exactly that. Looking back, revisiting the past, then letting go. Ek says it's "about a woman who takes leave of a certain stage in her life. It is a conversation that she has with herself that leads to new experiences." And it is warm, human, and funny.
Set and costume designer Katrin Brännström must also take top billing. Her interactive video turns the piece into a duet. Guillem looks out from a doorway, or rather an image looks out, first one eye, then the other, then the body. She tries to climb out of the frame.
Once out, dressed in yellow skirt, patterned blouse, green cardigan and sensible shoes and socks, this seemingly buttoned-up person lets down her hair, takes off her shoes and socks, and dances out her story, her youth (headstands and hopscotch), her half-lived life, her stifled emotions.
Until, time up, she leaves and joins the crowd in the doorway. One backward glance and she is gone with the rest of them. Sensitive, sombre, joyful, lyrical, ruminative - underscored by Beethoven's piano sonata op. 111 - reverie and a reverence. A minimalist evening with a heart.
"6000 Miles Away" runs until 25th September 2011
Reviewer: Vera Liber