Six Characters in Search of an Author
Luigi Pirandello, in a new version by Rupert Goold and Ben Power
Chichester Festival production
Gielgud Theatre
(2008)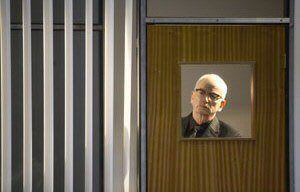 Rupert Goold's Six Characters, transferring from Chichester, is ultimately dazzling, even if it does stray a long way from Pirandello at times. However as the pair of actors portraying the co-adaptors point out, the great Italian delighted in laughing at convention so they are keeping to his spirit if not any of his six texts for the play.
In some ways, this evening is rather like joining Lewis Hamilton at a Grand Prix. It moves up the gears from a plodding start through an interesting developmental stage to a series of peaks each excelling its predecessors until a successful closure is finally achieved.
The opening scene following a TV crew trying to make a documentary drama about euthanasia in Denmark borders on blandness but ultimately sets us up for the post-interval fireworks.
It is interrupted by the arrival of the traditional sextet, acting in the demonstrative style of another age while they try to prove their credentials.
Led by a wraith-like Ian McDiarmid, now happily recovered from the incapacity that delayed his second performance and this review by a week, they attempt to tell their tragic but also sordid tale. However, despite entreaties and impressive story-telling abilities, today's supercilious and desperately shallow filmmakers believe that they can outdo reality.
The pathetic Father, played with calm wit by McDiarmid, does his best. He is well supported by the impressive Denise Gough playing The Stepdaughter, doubly abused by men in whom her operatic Mother (Eleanor David) had unwisely put her trust.
It is at this point that the new version begins to lose Signore Pirandello as it aspires to greater levels of surreality than even he could have imagined.
Up to the interval, it was quite possible to see this production as a badly botched attempt by an auteur (or two) to clamber over a classic in an attempt to prove their own inspiration. In that way, it had much in common with their wild Faustus, which made the darlings of Britart, Jake and Dinos Chapman as significant as Faust or Mephistopheles.
At that point, Miriam Buether's ultra modern TV studio gives way to a strange garden in which the little Girl becomes an Ophelia in an aquarium as the play's inexplicable Danish setting comes to the forefront as a transgender Hamlet metaphor is thrown in to spice up the evening.
Now, with dazzling beauty, the action accelerates into top gear as the nature of reality is put under the microscope. Already, citing Shakespeare and Flaubert, the Characters had persuasively suggested that they could better portray life than those living it. Now, the point was proved when Noma Dumezweni as Jane the film director stepped over the line into the parallel world of the story, from which there is no return.
By the close, the plot had practically come full circle with stories within stories finally being explained in an amusing, challenging and ultimately exciting 2½ hours.
By examining the relationship between drama and reality from a whole host of perspectives, Goold and Power, who have themselves been assassinated by their own creations onstage, create a confection that would probably have pleased Luigi Pirandello despite some of the liberties that they have perpetrated in his name.
It is good to see a production with this much ambition and adventure on Shaftesbury Avenue, where musicals star vehicles are threatening traditional values, and offers hope for the future.
Sheila Connor reviewed this production at Chichester
Reviewer: Philip Fisher