Six Dance Lessons in Six Weeks
Richard Alfieri
Theatre Royal, Haymarket
(2006)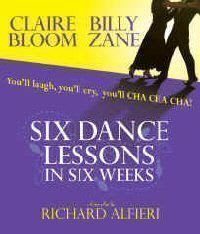 Six Dance Lessons in Six Weeks is a quaint, old-fashioned love story set in the Florida retirement zone today. It features the unlikely coupling of an old woman and a barely middle-aged gay man, whose lives share a common theme of loneliness.
This two-hander may seem an unlikely choice for one of the West End's larger theatres but its transfer from Broadway with the original director, Arthur Allan Seidelman, has a number of selling points.
First, it has been a hit around the world, secondly it features two big names. Billy Zane is a major film star with 70 screen credits, perhaps best known for his part in Titanic but also a regular on Twin Peaks and the fiancé of Kelly Brook, who excited patrons on the opening night.
His female lead, Claire Bloom, remarkably started her acting career in Charlie Chaplin's Limelight as far back as 1952 and has been a favourite ever since.
If there was any doubt about this play's potential, London is currently in a fever over dance as Strictly Come Dancing with its celebrity trainees moves from strength to strength. The connection with the TV series is ensured by the choice of the show's choreographer Craig Revel Horwood who is a judge on that programme.
However, this is far more than just a chance for a couple of stars to show off their twinkling feet, although it is undoubtedly a star vehicle. That, though, is how this mismatched pair meets. Miss Bloom as Lily Harrison is desperate for company and decides to take some dance lessons from the former Broadway chorus boy who turns up on her doorstep when she answers an advert.
He is Michael Minetti, an equally vulnerable man given to wisecracking and cussing, which does not go down well with the elderly wife of a Baptist minister from South Carolina.
Strangely, their relationship is founded on lies and insults and, before too long, Lily gives as good as she gets.
It is soon apparent that the old lady is not a dance beginner and as the lessons move through swing to tango, Viennese waltz, foxtrot and cha-cha, she demonstrates that she is very nearly as good as her expert companion. Even when the Beach Boys start surfing, she lives with the young man's modern dance movements, even if her energy levels are not what they once were.
As the pair dance together around the old lady's condominium, they are dressed in remarkable finery courtesy of designer Christopher Woods whose costume budget must have been massive. He also sets off an ordinary apartment with a beautiful backdrop that changes with the time of day and the weather.
The meetings soon develop into opportunities to talk and before long, the protective lies give way to the kind of intimate friendship that seemed out of reach, given their lack of commonality.
Perhaps what they share most of all is misfortune in love and an uncanny ability to attract tragedies. It is this last that brings a tear to the eye more than once, as each talks of the losses of loved ones. Finally, both death and love make an appearance in the guise of two characters who remain just off stage and then more directly affect the lives of those on it.
Six Dance Lessons in Six Weeks is a touching, well acted two-hour tale in seven scenes, that has a pair of endearing stars and a certain charm but whether it will have the legs to survive a winter in a large West End theatre only time will tell.
Reviewer: Philip Fisher