Neighbourhood Watch
Sir Alan Ayckbourn
Stephen Joseph Theatre
Tricycle Theatre
–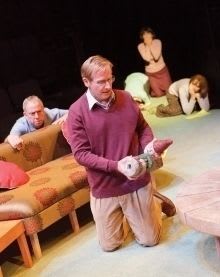 Sir Alan Ayckbourn is a playwriting machine. Neighbourhood Watch is his 75th effort and like so many in the past, its main object appears to be to poke fun at the pomposity of the middle classes with echoes that turn its characters into representatives of us all.
As usual, he gathers together a group of diverse characters, in this case four pairings, each individual at best mildly eccentric and in some cases excessively so. That follows much past precedent from a writer who excels in taking ordinary people and situations then stretching and stressing them until comedy appears.
The opening demonstrates remarkable, possibly foolhardy bravery as Alexandra Mathie's Hilda gives a stunningly boring eulogy for her recently lost younger brother. It takes some time for the play to recover, since the next scene takes us back for months to the chintzy arrival at the Blueberry Hill development of Hilda and Matthew Cottle playing Martin.
They are sweetly unworldly with their Christian belief in doing the right thing frequently off target, as when Martin attacks a young tearaway, only embarrassingly discovering that he is actually an innocent music student much later.
In the absence of police support, the brother and sister begin to develop a Neighbourhood Watch scheme designed to protect their affluent neighbours, primarily from the poor people just down the road.
The new committee brings in a rich mix of people. Of these, by far the most entertaining is former secret service man Rod. Terence Booth is reminiscent of Geoffrey Palmer's Jimmy in The Fall and Rise of Reginald Perrin with the same speech patterns and affirmative decision making, bringing about several of the evening's highlights.
Most of the remainder come from Frances Grey, deliciously taking on the challenge of Amy. This crimson-haired vamp is inexplicably married to tedious Welshman Gareth, Richard Derrington, but her ambitions lie further afield.
Wearing dresses that barely cover her waist let alone anything below, Amy is a voracious nymphomaniac, which does not go down well with the neighbours, obviously excluding the large number that she sleeps with. She does, though, have a refreshing kind of honesty that is missing from anybody else in the street.
For around two and three-quarter hours, Sir Alan develops these simple themes in a play that is intermittently very funny as the Neighbourhood Watch scheme creates a totalitarian, gated community protected by a trio of psychopaths and boasting a set of stocks to punish miscreants.
His main weapon is staged antithesis with mismatched couples the norm and innocents happily wandering through life unwittingly causing chaos. This will be familiar ground for fans of his works.
Strangely, considering his vast experience, the staging betrays signs of a playwright who should not have directed his own work. Where someone else might have been able to stand back and cut the text down to a much better focused and funnier evening, a writer clearly loves every one of his characters, situations and lines.
This means that compared to career peaks such as The Norman Conquests, this piece does not quite make the grade. That may be making an unfair comparison since Neighbourhood Watch is still rather fun and, particularly when Amy or Rod comes into the limelight, much, much better than that. In any event, this is a short run of a play that has already been seen in Scarborough and New York and is likely to prove popular thanks to the tremendous reputation of Sir Alan Ayckbourn.
Reviewer: Philip Fisher