Seven Doors
Botho Strauss, translated by Jeremy Sams
Chichester Festival, Minerva Theatre
(2004)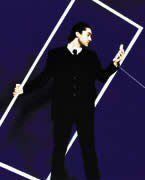 In the early 1970s the creators of Monty Python's Flying Circus made two TV specials in German - a language they, apparently, did not understand. Evidently, they caught the imagination of one Botho Strauss, a theatre writer in West Berlin who had yet to produce a play of his own.
Thirty years on, Chichester Festival is staging Strauss's Seven Doors, a collection of eleven sketches in a language that, if we're honest, most of us cannot understand! The fact that translation is by Jeremy Sams ought perhaps to put us on guard. Not that I wish for a moment to impugn his German, rather I'm suspicious of one who "translates" not only from German and French but also from English.
My problem with Seven Doors is how much is Strauss and how much Sams, albeit with the memory of his Out Of This World ringing still delightfully in my ears. And why the inimical strains of the 20s/30s Berlin Comedy Harmonists group which makes me, at any rate, wander off in altogether different directions?
But the point of it all seems to be made succinctly in sketch No 8 in which suicide Steven Beard discovers he must spend eternity with an Daniel Abelson's empty headed youngster.
Elsewhere, the Prophet of Doom (Steven Beard) is deaf to his Interviewer (Darlene Johnson) while He and She (George Couyas and Fiona Dunn) argue about whether they were just too happy to notice there was nobody at their wedding. As if there were any doubt about it, Sophie-Louise Dann's Woman is informed by the Man (Steven Ventura) that it's her lot to spend the rest of her life with a quiz show loser.
Hell, as we have been reminded before, is other people - but what about ourselves?
Two great delights of Chichester's Seven Doors are that director Martin Duncan's production moves at a spanking pace and the actors all are in deadly earnest.
The production continues in repertory.
Reviewer: Kevin Catchpole