Eight Women
Robert Thomas, translated by Donald Sturrock
Southwark Playhouse
(2011)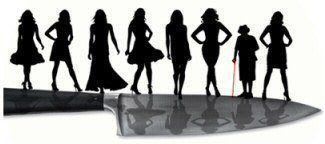 Although it started life on the stage just over fifty years ago, Robert Thomas's comédie policière is now best known in this country for Francois Ozon's stylish film version. It helps that he was able to cast a series of iconic stars bridging generational divides from Catherine Deneuve, via Isabelle Huppert to Ludivine Sagnier.
Anna Bliss Scully's potentially award-winning design for this new, updated and anglicised version of Eight Women benefits from an inventive imagination, featuring as many doorways as there are women, with many of the entrances and exits taking place behind the audience.
The main playing area, which is extremely wide and shallow, depicts a comfortable living room, as befits an Agatha Christie-derivative country house murder mystery.
For whatever reason - possibly all of those doors - director Elgiva Field and her translator Donald Sturrock decided to turn the play into a farce, requiring the actors to run around like headless chickens and in some cases act in a fashion that might commonly be regarded as manic and totally unbelievable, rather like The Pink Panther severely overdone.
This drains all credibility from the murder mystery, leaving behind an overplayed farce with motivations completely forgotten.
The story, now apparently set in the early eighties, has great promise with its echoes of An Inspector Calls. Mark Peterson is a man overrun by women. They have already bled him dry financially and emotionally before, one Christmas, he is murdered in the family home by one of its eight female residents (including, in this version, sisters named Goneril and Regan) who are then trapped together by snow.
The octet features an unfaithful wife, slutty sister, a pair of neurotic in-laws, two attractive daughters and a couple of domestics, with one of whom the deceased has been enjoying a lengthy affair.
After the insolvent patriarch is knifed in the back, we enter Christie country, with elder daughter Susanna, played by Kate Ward, taking the lead in trying to solve the mystery. Soon enough, the group realises realise the murderess must be one of their number, throwing suspicion and hysteria into the mix.
For 2½ hours, they ineffectually try to find out who killed a man that they have all loved in their own way but concentrate much more on trying to elicit laughs from the situation.
The acting is frequently overwrought and rarely believable, though Clara Anderson is amusing as the dead man's sexy sister Zinka.
Having read this far, you will have decided either that Eight Women is a great opportunity missed by a country kilometre or, alternatively, a chance for a few good laughs and a great night out.
Reviewer: Philip Fisher