9 to 5: The Musical
Book by Patricia Resnick, music and lyrics by Dolly Parton
Ambassador Theatre Group
Richmond Theatre
–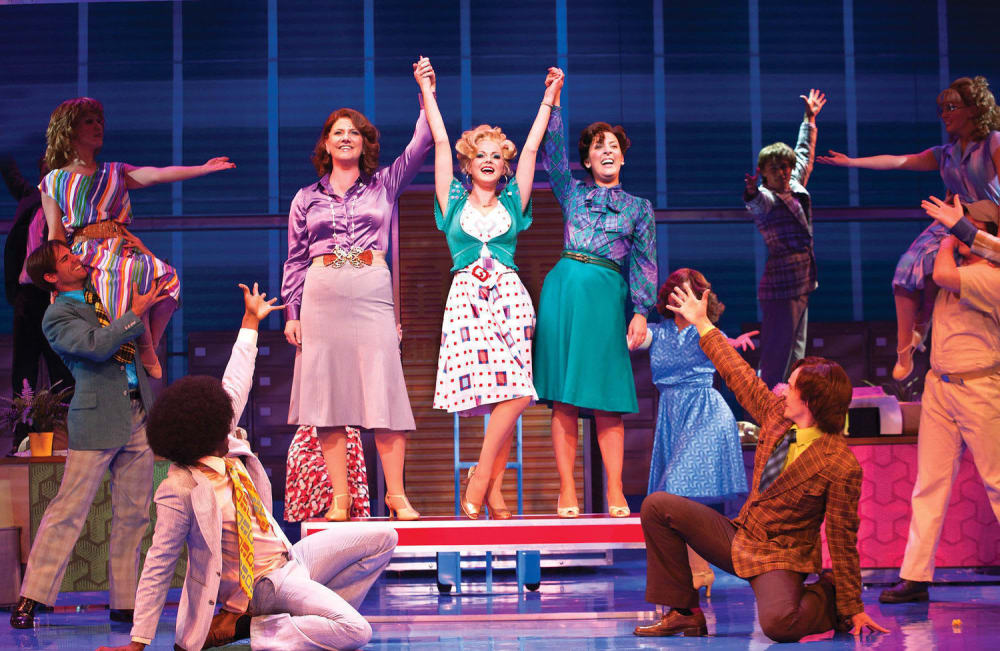 In today's celebrity-obsessed society, star names have become common currency in both the making and marketing of new musicals. Queen gave birth to We Will Rock You, Abba to Mamma Mia, and, most recently, the Spice Girls to Viva Forever!, but whereas these shows use the back catalogues of their artists to create new work, 9 to 5:The Musical uses new material by the Queen of Country Dolly Parton to recreate the film live on stage.
Moviecals, or popcorn musicals, are now a dominant musical theatre sub-genre that benefit from a large percentage of their audience coming to see their favourite film brought to life. But whereas most musicals of this kind are bereft of their original cast, 9 to 5 not only contains music by Ms Parton and a parody of her in the role she originally played, it also enjoys an appearance from the country and western singer each night.
Although not live in person, Parton's presence is strongly felt as her face becomes that of a large clock floating on high. A cross between the Magic Mirror and Fairy Godmother, Parton welcomes the audience, introduces the characters and establishes the plot in what conventionally may be referred to as a prologue. Framing the production in this way reminds the audience of the hierarchy of fame as Puppet Master Parton summons the show into being, helping to enforce her celebrity presence even further.
Just like Parton, 9 to 5: The Musical packs plenty of girl power as Violet Newstead, Judy Bernley and Doralee Rhodes take matters into their own hands on a journey of gender equality and self discovery set in the sexist 1970s. However, the piece could only lightly be classified as 'social commentary', what with its crazy narrative containing episodes of rat poison, loaded guns and plenty of rope—the kind of madcap plot musicals crave.
When one thinks of Parton, and indeed 9 to 5, 'understated' and 'simple' are not the first adjectives that spring to mind. Sadly, the show's scenery is almost non-existent, with props, mainly tables and chairs, wheeled on and off by members of the cast to ensure swift scene changes. Although a touring production cannot achieve all the wizardry of a West End show, regional audiences deserve a little more than what's on offer here. Very few flats fly in and out and a lumbersome rectangular cube is often the only thing helping to depict a scene's setting as each side is rotated to reveal an executive bookcase, office blinds or the ladies' room tiles.
With the stage often bare, it falls on the talented ensemble to fill the space with Jeff Calhoun's inventive office choreography which sees papers collected, stamped and filed in time with the music.
Some of the show's best moments are during its musical dream sequences and although a glitter cloth or smoke machine is nowhere to be found, Bonnie Langford brings the house down when her eccentric Roz reveals a smouldering inner self, whilst as office drunk Margaret, Lori Haley Fox has the audience howling with delight.
Jackie Clune, Amy Lennox and Gemma Maclean each have stunning voices as the show's protagonists, but, as with so many of the show's characters, they seem reined in and afraid of venturing into the Parton-esque territory of OTT, which is somewhat expected from such a show.
As Parton once said, "If you want the rainbow, you gotta put up with the rain," and for Langford, Fox and a sharp ensemble, 9 to 5: The Musical is worth getting wet for.
Reviewer: Simon Sladen