Viva Forever!
Based on the songs of the Spice Girls, book by Jennifer Saunders
Piccadilly Theatre, London
From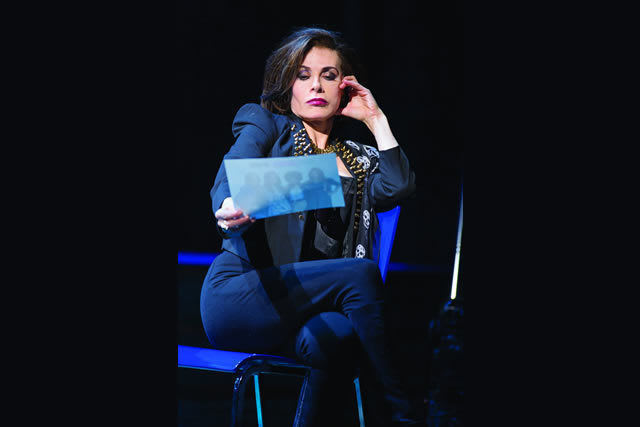 Viva Forever! is one of those jukebox musicals that critics love to hate but audiences just love.
Having hit on a winning formula with Mamma Mia, Judy Craymer attempts to repeat the trick, this time basing her show around the music of the Spice Girls.
If there is any doubt about the producers' desire to succeed, the quality of their opening night audience spoke volumes. In addition to all five Spice Girls and la famille Beckham, hundreds more celebrities were in situ, including the likes of Lord Lloyd Webber, Cilla Black, Michael Caine and Chris Moyles.
They had a great deal to enjoy during a lively 2½ hours linking the Spice Girls' back catalogue to a book written by Jennifer Saunders.
The TV favourite has probably learnt a few things from Miss Craymer, since the heroine Viva enjoys an emotional life which follows an arc that could easily have come from Mamma Mia.
One of the ironies of this show is that its own ready-made star playing Viva, West End (and apparently London stage) debutante Hannah John-Kamen, has not been discovered in a reality show but using more traditional means.
This 19-year-old with a smooth, sweet voice lives on a houseboat with her adoptive mum played with empathy and wit by Sally Ann Triplett. Together with three friends, the youngsters form a band called Eternity and hope to get rich on the back of a ubiquitous reality TV show.
While this is called Star Maker on stage, viewers will instantly recognise it as something with which they are already very familiar from prime time viewing schedules.
Inevitably, there are tears along the way as, having proven their mettle imitating the Supremes in glittery silver dresses singing "Stop", the girls are callously split up by the TV judges with only Viva allowed to progress towards the peak of their collective ambition.
She faces a tough, lonely regimen under a dubious mentor in the shape of Sally Dexter's Simone, a terrifying faded starlet who still has a sensational voice which she utilises on a regular basis throughout the evening.
The isolation proves worthwhile leading to a stirring ending, though we never get to discover who Viva's real mum actually is.
What the audience does get is a stream of Spice Girls covers presented in a multiplicity of styles. Everyone will have their favourites but with the volume turned right up "Wannabe" is done as a superb pastiche of the original, while "Who Do You Think You Are?" proves infectious, as does a powerful encore medley.
The choreography by Lynn Page borrows much from the disco era peaking in an over-the-top Spanish routine, while Peter McKintosh's design and costumes are eye-catching in equal measure.
Viva Forever! might be as manufactured as the kind of reality TV show that it delights in lampooning but this new musical could well find itself a word-of-mouth hit popular with hen parties and others out for an enjoyable, if undemanding, night of light entertainment.
Those in search of deep meaning are unlikely to look for it at a jukebox musical but, if they delve just below the surface, there is a strong message in favour of girl power, or, in more traditional language, feminism. Add to that Viva's strong belief in being true to herself and female audience members might come away feeling at least a little more empowered.
Inevitably, the Spice Girls loved it as they made plain in their speeches at the final curtain, their audience went wild and, with the volume and energy ramped right up at the end, some of the plotting infelicities will swiftly have disappeared from the memory.
Reviewer: Philip Fisher