9 to 5 the Musical
Music and lyrics by Dolly Parton; book by Patricia Resnick, based on her original screenplay
Dolly Parton
Alhambra Theatre, Bradford
–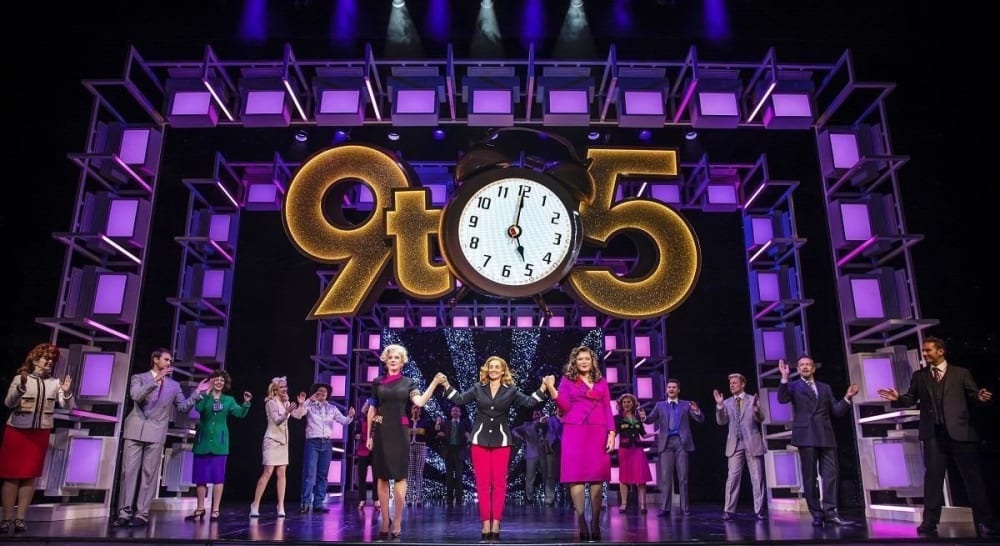 When 9 to 5 was first released over forty years ago, it was dismissed by critics for being either too lightweight or too strident in its feminism. Despite this, the film became one of the biggest box-office hits of 1980, surpassed only by The Empire Strikes Back.
In the intervening years, the film has gained a reputation as a minor classic, justly celebrated for its jolly-yet-sharp takedown of male chauvinism—and, of course, for introducing Dolly Parton to the mainstream where she has remained happily ever since. Given the longstanding tradition of turning films into stage musicals, it was hardly a surprise when the film was reimagined for the theatre back in 2008.
Intelligently adapted by Patricia Resnick from her original screenplay (co-written with Colin Higgins), 9 to 5 the Musical preserves the key elements that made the original film such an audience favourite. Principally, there is a gender battle between three disgruntled office workers—Violet (Louise Redknapp), Judy (Vivian Panka) and Doralee (Stephanie Chandos)—and their narcissistic boss Franklin Hart Jnr. (Sean Needham), who is memorably (and accurately) described as a "sexist, egotistical, lying, hypocritical bigot".
Tired of being overlooked, disrespected and harassed by such an odious creep, the three women take their revenge by holding their boss captive in his own S&M dungeon (a fabulous addition to the original film). Having been passed over for promotion because of her sex, Violet seizes the opportunity to make changes at work, transforming Consolidated Industries into a far more pleasant and productive company.
A few weeks ago, I criticised Heathers the Musical for jettisoning too much of the original's cool irony. In contrast, 9 to 5 the Musical captures all the warmth and wit of the film version whilst also providing the gloss and glamour that you would expect to find in a Broadway musical.
Dolly Parton's singular talent as a songwriter is in full display throughout the show. While none of the songs manage to surpass the sheer catchiness of the title number, the country stylings of "Backwoods Barbie" and "I Just Might" are particularly lovely. Parton also demonstrates a real flair for comedy in songs like "Here for You" and "Heart to Hart", in which characters give voice to their lustful feelings.
Having grown up in the nineties, I have fond, nostalgic memories of Louise Redknapp as one of the UK's leading pop princesses. The part of Violet was originally played by Lily Tomlin, a performer renowned for her caustic wit, so I wasn't sure how Redknapp would fare in the role. The answer, happily, is extremely well. She does a very good job of conveying the character's pent-up frustration, and her rendition of "One of the Boys"—a tightly choreographed number, in which she displays her talent as a dancer—provides one of the evening's highlights.
As Doralee, the role originally played by Dolly Parton, Stephanie Chandos is a joy to watch. She manages to capture Parton's unique blend of sensitivity and strength whilst also placing her own stamp on the role. Judy, the role played by Jane Fonda, has always seemed to me the least interesting of the three heroines, lacking Violet's brains and Doralee's charisma. Nevertheless, Vivian Panka acquits herself extremely well in her UK debut performance, singing the house down with the power ballad "Get Out and Stay Out".
Sean Needham is superb as the women's wolfish boss, devouring every scene in which he appears. I doubt I'll ever forget his bizarre pelvic thrusts during "Here for You". Finally, Julia J Nagle was terrific as his lovelorn employee Roz, whose buttoned-up exterior is dropped in spectacular fashion during "Heart to Hart".
Tightly choreographed by Lisa Stevens, the production is fast-paced and energetic throughout. Particularly memorable was the opening scene, in which we see the ensemble getting ready for the working day.
Tom Rogers's office set places the action squarely in the 1980s whilst also rendering the stultifying conformity of office life, and Nina Dunn's video designs are equally effective.
In a landscape filled with musicals based on films, 9 to 5 the Musical is definitely one of the better ones.
Reviewer: James Ballands