93.2FM
Levi David Addai
Royal Court Theatre Upstairs
(2006)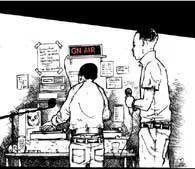 Community radio must, almost by definition, be a stepping stone to something much bigger for most participants, at least in their dreams.
However, when the chance to move on happens, if 93.2FM is anything to go by, it might prove to be the cause of disastrous conflict.
When, at the same time, the protagonist discovers that his airhead girl is pregnant by his dope fiend brother, life will inevitably be rocky for a bit.
Borough FM is an R'n'B and talk station that has been set up by two buddies with West Indian roots, who have been together since school days and, arguably, have not grown up since. The fact that they proudly call themselves Coach (Ofo Uhiara) and The Big Bossman (Richie Campbell) says it all.
Their friendship may go back a long way but when the BB gets the call to star on a major station, his partner loses it (his temper and his credibility) big time.
As the world crashes, support comes from an unexpected source. Single mother and the station's technical guru, Patricia, played by Lorna Brown, has more sense than the rest put together; and also turns out to be a better DJ. In addition, she unexpectedly discovers a soft spot for the BB.
The actors have great fun on Soutra Gilmour's packed set but no one explains how the station can fund all of the expensive gear, and that is one implausibility amongst many. In order to achieve the right results, the playwright not once but twice allows secrets to be revealed while the "on air" sign is accidentally lit.
As this implies, the plotting is often horribly clichéd, as are too many of the inhabitants of this tiny microcosmic world. On the plus side, the dialogue can be witty and the larger than life characters endearing and frustratingly shallow in roughly equal measures.
There are some nice cameos in Dawn Walton's well-paced production, the best from Seroca Davis as the BB's fifteen-year-old sister Keisha who has more idea about life than most of her elders but assuredly not betters.
Eventually, the coincidences and lack of depth become overwhelming, though Levi David Addai shows sufficient promise to suggest that with the right guidance he has the talent to write something much more satisfying next time around.
"93.2FM" continues at the Sherman Theatre, Cardiff from the 21 - 22 September, Birmingham Rep 26 - 30 September, Liverpool Everyman 3 - 7 October and the Gardner Arts Centre 10 - 11 October
Reviewer: Philip Fisher