946: The Amazing Story of Adolphus Tips
Michael Morpurgo, adapted by Michael Morpurgo and Emma Rice
Kneehigh
HOME Manchester
–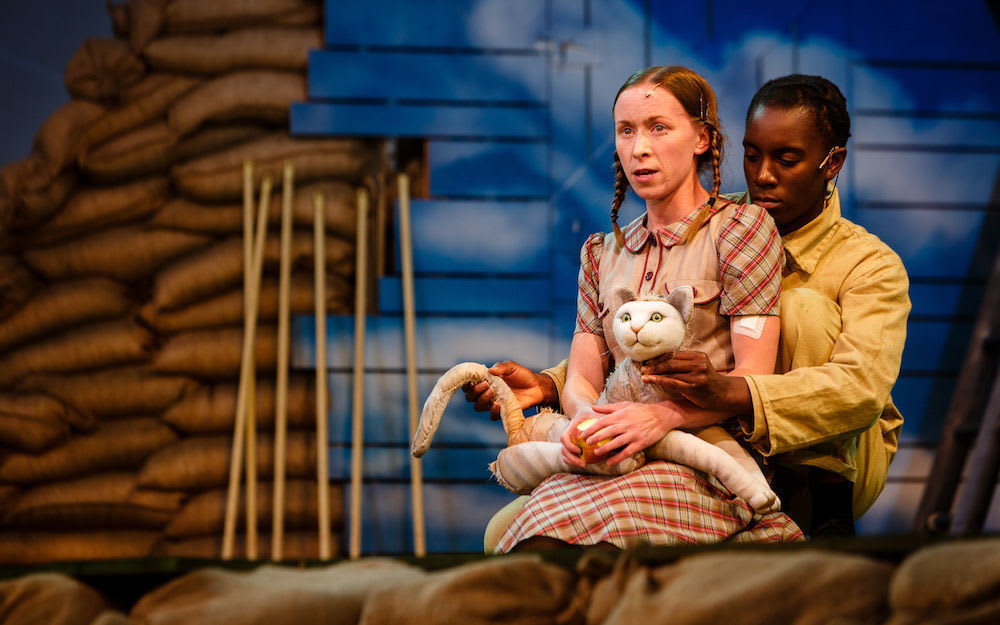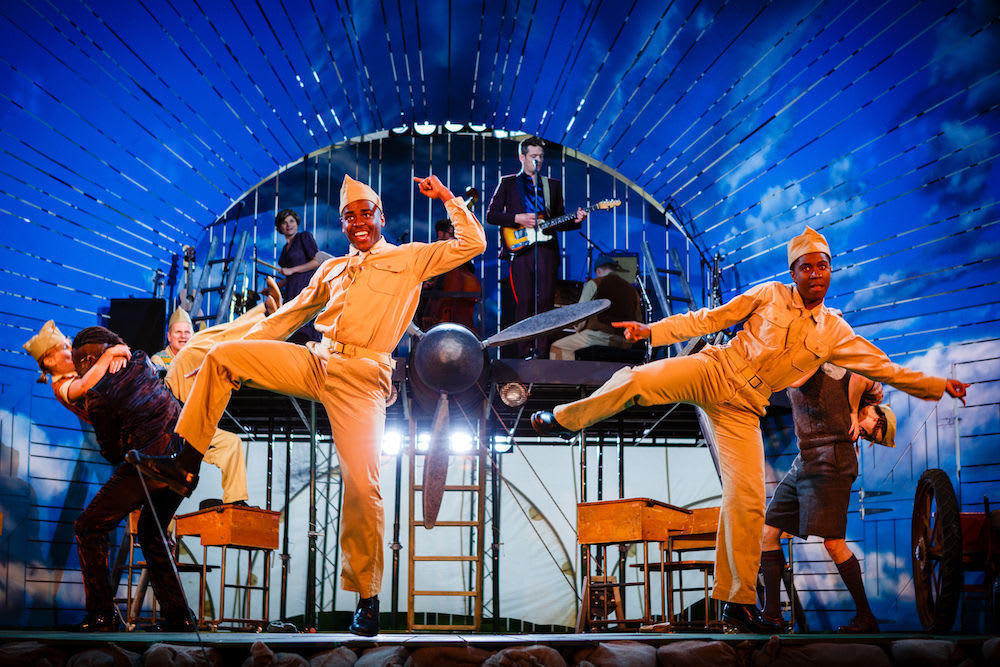 Just over a year after it brought Dead Dog in a Suitcase, its take on Gay's Beggar's Opera, to Manchester, Cornwall's Kneehigh makes a welcome return with this adaptation of a story by Michael Morpurgo, previously seen in the company's own Asylum theatre tent and at Shakespeare's Globe.
Lez Brotherston's set design is at once colourful and striking and typically Kneehigh, with its multiple levels at the back and lots of toys for the actors to play with lying around. The band is permanently set up on the upstage platform, welcoming in the audience with "Leaving On A Jetplane" and "Born To Be Wild".
Then the play proper opens with a quote from Brecht, who is clearly a big influence on the company—the fun, playful Brecht as Brecht intended, that is, not the dull, academic Brecht that we usually see on UK stages. So the story comes as a sequence of scenes each with a point to make, not joined into a continuous plot, the actors change character and talk to the audience, the action will stop for a song, original or discovered, and the whole thing has a few political points to make.
The title is in two parts, and these are distinctly separate elements of the Second World War story, although they are cleverly linked by the end. Tips is 12-year-old Lily's (Katy Owen) cat, which she adores. She lives on a farm in the country, where evacuees from London are sent. She becomes friendly with one in particular, Barry (Adam Sopp), whose father has been killed in the war.
Adolphus, or Adi, who gives the cat his other name later on, is one of two black American soldiers (Ncuti Gatwa as Adi and Nandi Bhebhe as Harry—stunning, athletic jazz dancers) stationed nearby who become friendly with the family. The village is cleared so that the US Army can practise manoeuvres in preparation for the Normandy landings, but Tibs is lost in the move.
Then comes the 946 part: because of a failure in communication between the US and British forces, the soldiers in training off the coast were left unprotected and a passing German fleet opened fire, killing 946 men.
All of this is framed by a modern-day story of Lily (artistic director Mike Shepherd as Grandma), still as unconvential and unwilling to conform as an old woman as when she was a child, flying around on her motorbike with her grandson Boowie (Adam Sopp) on the back, then jetting off on an adventure after husband's death, to the horror of her grown-up daughters (I suspect there may be something of Morpurgo himself in Lily).
Emma Rice's production is as spectacular, imaginative and prop-filled as you would expect from her—there's so much "stuff" in one of her productions it's hard to imagine how there was ever time to put it all in and make the final performance as polished as this.
Composer Stu Barker combines his original songs, in a style that sounds typically Kneehigh as you'd expect from this long-time collaborator, with effective linking and background music and some existing songs, significantly Louis Jordan's "Jack, You're Dead", all played and sung live. Akpore Uzoh as Blues Man makes a great front man to the band, then becomes more significant to the story later on.
Though the play is based on a book for children, you don't need any children to enjoy and appreciate it. This is one of those productions that immerses you into a world in which you feel at home and where you want to stay longer, but it also feels like it is telling you something important and significant.
This is carried through as the cast stand on the door exchanging lucky buttons for contributions for the Calais refugees, carrying through the caring message of the production and philosophy of the company from the stage to the real world.
Reviewer: David Chadderton