946: The Amazing Story of Adolphus Tips
Adapted by Michael Morpurgo & Emma Rice
Kneehigh at The Globe in association with Birmingham Repertory Theatre and Berkeley Repertory Theatre
Shakespeare's Globe
–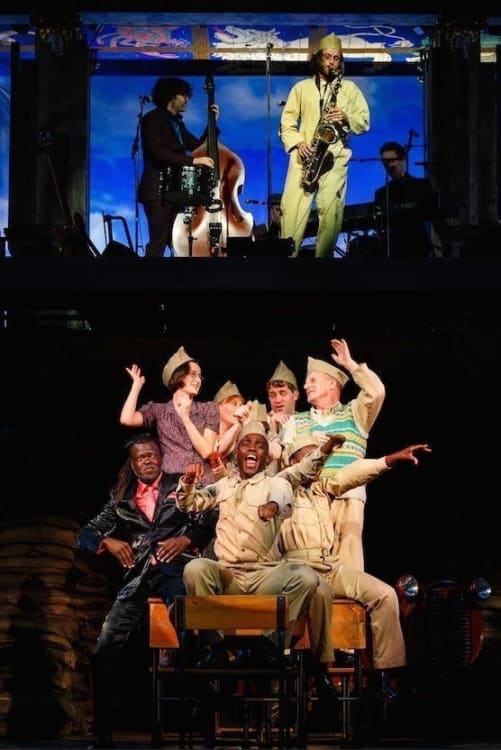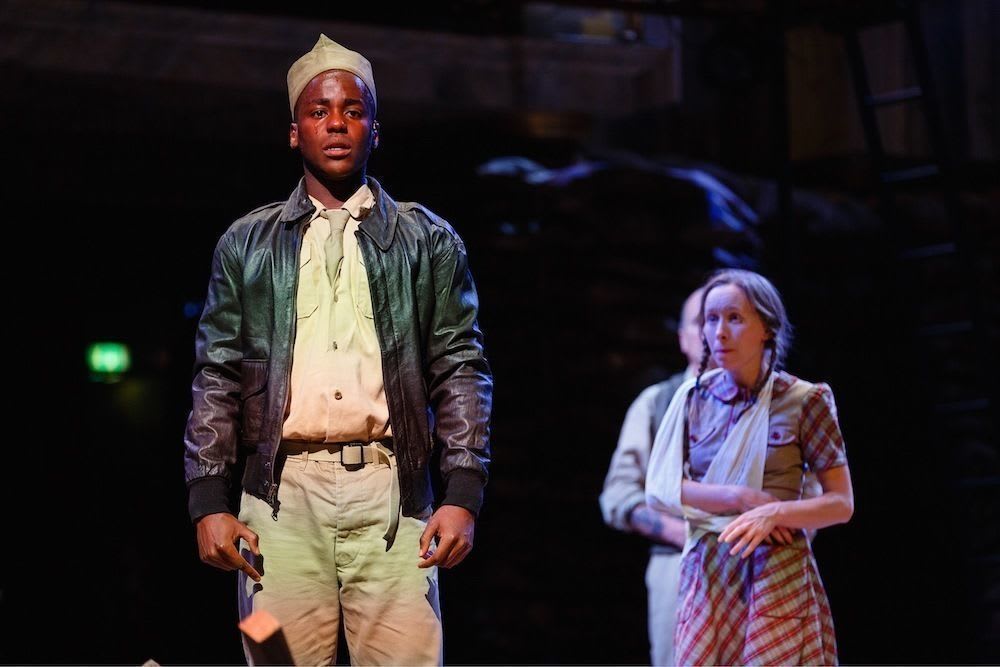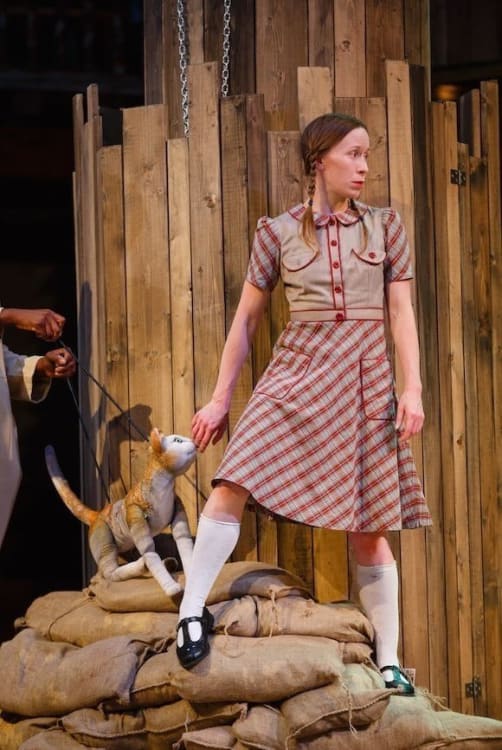 Warmhearted 946: The Amazing Story of Adolphus Tips will make you laugh, chuckle, smile, sing (there is audience participation as in the best of end of pier shows), and move you in every sense.
Michael Morpurgo's deceptively slight 2006 novel—only 192 pages—has been transformed by his co-adapter and director Emma Rice, formerly artistic director of Kneehigh, now of Shakespeare's Globe, into a dazzling two and a half hour production with music to send you out dancing and humming. Amazing how a sweetening of the pill helps a sad tale go down.
This is the second Kneehigh production Rice has imported this season to the Globe from Cornwall, and this time the space is right. Cornwall's Asylum tent in a field concept fits Globe's 'tent' by the Thames under the sky with its crisscrossing planes and darkening night like a glove. The groundlings are right in the action, facing zinc bathtubs that become the theatre of war. I see boys thrilled to catch flying red ribbons.
946: The Amazing Story of Adolphus Tips is for all generations. I had planned to take my usual twelve-year-old companion—he would so have loved this—but he was unavailable, so I took his grumpy grandpa instead, and what do you know, his face did crack into a smile. Result! And, what a surprise, he knew the backstory, too, of the brushed under the carpet 1944 tragedy that happened on our southern shores.
New to me, and new to Michael Morpurgo when he stumbled across it in Slapton, Devon: what a sorry tale, concealed by embarrassed authorities. That Morpurgo turned it into a charming, palatable for children history and moral lesson is no surprise—his War Horse becomes a war cat trapped behind barbed wire in a requisitioned territory, a catalyst (sorry) for an encounter across cultures that expands everyone's horizons.
Slapton folk were evacuated to make way for practice D-Day Normandy landings, a huge joint exercise, named Tiger, in the English Channel by the British and Americans, a practice that went terribly, needlessly, wrong and 946 American lives were lost.
Not only did the villagers, especially Grandpa (Mike Shepherd) and twelve-year-old Lily (Katy Owen), not want to move, but they had never seen black people before, and here were friendly, lonely, American GIs with their Hershey bars and jitterbug music. What a culture shock and adventure. But Lily is more concerned about her cat Tips, who, obviously, is not going to move home, now behind the perimeter wire.
Adolphus (Ncuti Gatwa) and his best friend Harry (Nandi Bhebhe) promise to find him. A close relationship grows between them and Lily's farming family, who have also had to take in London boy evacuee Barry (Adam Sopp), whose father is dead. Lily's is missing. Barry's mother (Ewan Wardrop) is something else. The grown-ups will know what she is; the children will see she's a funny cross-dressing panto dame.
Written across two time spans, a tale within a tale, 946: The Amazing Story of Adolphus Tips has some surprises up its sleeve, and a happy ending, which you might be able to guess. Present day Lily is a Roald Dahlian motorbike-riding Grandma (Shepherd again), who has just lost her husband. Her family are concerned about her, but she has a notion. Before she sets off for America, she gives her 1943/4 diary to her grandson Boowie (Adam Sopp)... "You can't have the end of the story until you have the beginning." And don't we all like a love story…
If you've seen any Matthew Bourne productions, you might spot some quotes—Ewan Wardrop's Lord of Something-Or-Other is straight out of his early work—but then two of his regular superb collaborators, Lez Brotherston and Etta Murfitt, are this show's designer and choreographer.
Rice's wit and love of the theatrical make-believe, is magical. As many an artist has confessed, one must hang on to the inner child in order to produce the inspired artwork. Two airplane propellers decorate the permanent columns and, high above, in the clouds, are the heavenly band that keeps the wind in the sails of this ebullient production.
I wonder whether the running time is too long for young ones, but the buoyant music and the magical Blues Man (Adebayo Bolaji) keep them wide awake, though Lily's mum does ask the band to "shut up for a minute". As Brecht said (there are several clever quotes, from Maya Angelou and Martin Luther King), "in the dark times there will be singing".
A gift to teachers and school parties for future projects: there is so much to unpick, historical, sociological, emotional, psychological—lots of deaths—and there's the convenient cat and lots of puppets. And a childish skipping contest between Churchill and Hitler…
The multi-talented cast play and sing many roles: Kyla Goodey, Lily's Mum, makes a very physically pugnacious schoolboy bigging up to the London evacuee. And most of them seem to be fine musicians: Emma Darlow's Jewish émigré Madame Bounine also plays the violin—cue for some Klezmer music—and Chris Jared (Grandad Present / Vicar/ Lily's Dad) blows a mean saxophone.
Composer Stu Barker and musical director Pat Moran must take a lot of the credit for the range of music, which especially delights me. Noel Coward's quip "Extraordinary how potent cheap music is" comes to mind. Potent it is, but there's nothing cheap about 946: The Amazing Story of Adolphus Tips.
Reviewer: Vera Liber