American Ballet Theatre

Sadler's Wells
(2011)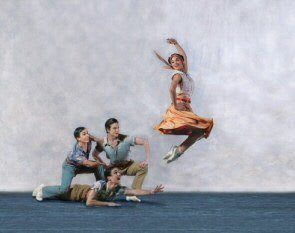 The renowned American Ballet Theatre, established in 1940, celebrates the past and seeks to reinvigorate its company with the new. Over a period of six days it showcases ten short ballets divided into two programmes - with quite a range of dancing numbers and styles for the company to present.
The dancers do so with verve if not always with finesse, but one has to question the programming. Wouldn't less have been more? ABT's range is a given, but this sort of pick and mix variety show can be a bit hit and miss. But in ballet the thread that links is the thread that binds - the DNA of the indivisible past and present.
Contemporary and heritage choreography, ballet's unidentical twins: Twyla Tharp, Alexei Ratmansky (ABT's new Artist-in-Residence, formerly of the Bolshoi), Benjamin Millepied (now famous as Natalie Portman's partner in real life and in the film Black Swan) in Programme One, and Balanchine (both programmes), Antony Tudor, Paul Taylor in Programme Two.
I think I drew the long straw, as reports of Programme One have been 'mixed' (as they say). I was fortunate to catch Programme Two, the heritage one: four short ballets, legacies from the Russian-American Balanchine and the British-American Antony Tudor whose baton is caught jauntily by his former pupil Paul Taylor.
Balanchine's gift to American ballet is acknowledged by his link with Imperial Russia: the Tchaikovsky Pas de Deux, and Theme and Variations, which the Royal Ballet performed so well in October of last year in the presence of Alicia Alonso, for whom Balanchine created the dance in 1947.
Theme and Variations, a tutu ballet, twenty-two dancers in classical formation, seems ill suited to Sadler's Wells' small stage. Maybe this is what cramped the lead dancers' style. Neither Gillian Murphy nor her prince David Hallberg was listening to the music.
He has a lyrical upper body and soft technique, and she has her moments of dazzle, but this was dancing by numbers at a stately pace. You could almost hear them counting in their heads.
What a relief then to find the Tchaikovsky Pas de Deux executed with such wonderful panache by Herman Cornejo and Xiomara Reyes, a well-matched pair! Full of pyrotechnics and fun, he dashing, she vivacious, they sparked generously off each other.
Secure in his support her daredevil dives are audacious, and his double cabrioles en l'air and speeded up turns are spectacular, but it is their phrasing of the music, their embrace of Tchaikovsky's score that raises the level of the dance.
Separating the Balanchine ballets was Antony Tudor's 1936 narrative 'psychological' ballet, Jardin aux Lilas, first performed by ABT in 1940. One sees immediately the debt owed him by Frederick Ashton (Enigma Variations) and Kenneth MacMillan (Winter Dreams).
Twilight in a lilac garden, an Edwardian scene, an engagement party, a loveless marriage of convenience, a young girl (Julie Kent ever youthful with the wisdom of years) is being sacrificed on the altar of convention and convenience, as guests gossip behind the veil of delicate etiquette. Her soldier love (Cory Stearns) is at the party, as is her future husband's (staid Roman Zhurbin in formal frock coat) past indiscretion (Kristin Boone in purple dress and saucy feather in her hair).
This is Caroline's (the only named character) last moment with her soldier love. The poignancy of that missed last kiss is caught by the briefest of dream scenes. The passions that bubble beneath social propriety: a solo violin, a gentle poem of unrequited love, a doomed girl in white.
From a formal English garden to America and love in wartime with Paul Taylor's infectious bouncy Company B, which brings the house down. After the elegance of the classical, 'let your hair down' Americana is a joyful release.
The cheeky 1940s songs of the harmonising Andrews Sisters and the exuberant dancing of the company would be a veritable high, if it weren't for the context - men are going to war to die. Each song is a mini-drama.
Hieroglyphic shadows on the lit back wall, men in khaki parade and stumble off to war. But in the meantime, let's live like there's no tomorrow. Where is Gene Kelly? The music demands a Gene Kelly.
Oh, there is a Gene Kelly impersonation solo number - Sascha Radetsky is the "Boogie Woogie Bugle Boy of Company B" - all that's missing is Kelly's Colgate smile. Craig Salstein has fun as a Buddy Holly look-alike in "Oh Johnny, Oh Johnny, Oh!", and Misty Copeland drives men wild in "Rum and Coca-Cola".
Thirteen dancers turn the heat up. It's impossible not to. This is dance driven by high-octane music and pheromones. Sexy girls in bobby socks and white jazz shoes, athletic men spinning and showing off, ebullient life spilling out on to the stage. There's soppy dreamtime, too. Easy on the eye, and easy on the ear. Good times in bad times. Much as the evening itself.
Both programmes in rep till 6th February 2011
Reviewer: Vera Liber