As You Like It
William Shakespeare
Shakespeare's Globe
(2009)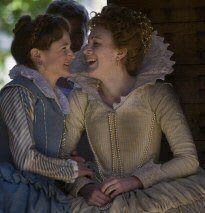 Thea Sharrock's delightful production is built on the contrasting double act of Naomi Frederick and Laura Rogers as cousins Rosalind and Celia.
They touch the heart and amuse in equal measure in a story of lost and found love that reaches multiple happy endings thanks to a good dose of contrivance.
Their counterparts are brothers good and bad, Jack Lasky making handsome Orlando doleful until struck dumb by love, Jamie Parker's Oliver pure evil prior to an inexplicable volte face.
The early scenes show love thwarted by Rosalind's unkind uncle Duke Frederick, a bad man who, by driving out Orlando and Rosalind, sets up the ensuing scenes of rural idyll in a Dick Bird designed Forest of Arden created by the removal of black coverings from every pillar.
This director clearly believes in delighting those 700 groundlings that pay a fiver each night to stand for 2¾ hours in the Pit. They will feel right in the centre of the action, as she uses the whole of the space going beyond even the extended apron of the stage to involve them fully.
Miss Frederick becomes a convincing youth, who woos, while being wooed by her unwitting love, Orlando. He/she is utterly charming throughout as Orlando is run ragged for desire by his fun-loving amour. Celia may not have that many great lines but Thea Sharrock has given Miss Rogers great physicality with a body language of her own and, in doing so, many great laughs.
Their fellow feeling is best exemplified by the girlish squeals that they emit when love is in the offing. This may not be in keeping with the period spirit and superb costumes but says much about the girls.
Their passions are supplemented by two other pairings, one between a pair drawn from simple shepherd folk but the other is more unexpected. Dominic Rowan works hard to get laughs as a very zany Touchstone, aided by a team of jester's puppets, and falls for coarse Audrey (Sophie Duval) and a marriage seemingly made in Hell.
Tim McMullan is a character actor who could have been born to play a lethargic, lugubrious Jaques, melancholy personified. He is excellent throughout but reaches his zenith in the famous Seven Ages of Man speech, commenced at the slowest of tempos then accelerated before a more measured close. The delivery ensures that every word comes across perfectly and gives the speech full meaning..
One pleasure of this production is that every member of the cast speaks lines their perfectly and on opening night had the good fortune to be abandoned by the usual plethora of planes that plague the venue. This leads to exceptional clarity of interpretation, which will be particularly welcomed by those who are not familiar with the Bard and perhaps arrive fearing a difficult evening.
All in all, this is an excellent, light-hearted evening that will both delight regulars and please newcomers, all of whom will be enchanted by the two leading ladies and amused by so many of their colleagues.
Reviewer: Philip Fisher