Crimes of the Heart
Beth Henley
Culturcated Theatre Company
Brockley Jack Studio Theatre
(2010)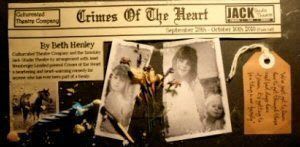 In Beth Henley's Crimes of the Heart all that is best and worst about families is exposed through a witty and touching study of three sisters. What is it about sibling relationships that makes such good drama? Is it because siblings are the double-edged sword of family life, people you are intimately involved with but who you would not choose as friends, or the baffling emotions they exact formed of nothing better than an enforced shared history and grudges?
When we join this story the sisters are adults: it is Lenny's thirtieth birthday, an event overlooked by absent middle-sister Meg who left the small Southern town of their birth to pursue a singing career, and Babe, the youngest of the three, who has inexplicably shot her husband, the town's leading lawyer.
This attempted murder brings Meg home like the prodigal son which also overshadows the plight of the hospitalised Old Granddaddy who helped raise the girls and for whom Lenny is now responsible. With so much going on, Lenny's sadness at the sudden death of her much-loved horse is railroaded into the background: such is the hierarchy of family upheavals!
There's nothing like a family crisis for revealing a relative's true colours and the chaos here highlights the differences between stolid, caring Lenny, run-around Meg and Babe, true to her name, still dependent and relying on others to decide things for her.
Although set in 2010 by director Jennifer Lunn, the well thought-out set from newly qualified local designer Sophia Mason speaks of a period more akin to the end of the 1970s when the play was written and which sits well with its pre-21st century small town feel. That Lenny is more resentful of a childhood injustice than a recently betrayed secret is a timeless observation but there is something of a misfit in putting the piece in a contemporary context.
Ms Lunn has gathered together a strong trio to deliver this Pulitzer prize winning script and the mixture of accents is a minor niggle about their otherwise assured performances (a niggle, it should be said, that also applies to the wider cast): Canadian Hilary Connell gives a considered performance as Lenny who is youthful but older than her years as the sister who wears the maternal mantle. American Jennifer Armour gives self-centred Meg Magrath a convincing 'twice round the block' slobby quality whilst Alice Anthony's Babe has the pathetic selfishness of a child overwhelmed to find itself facing the consequences of its actions.
Top-notch support comes from Davin Eadie as the endearing jilted boyfriend, Doc, Richard Pepper as Babe's strangely motivated lawyer and Jenna Smith as the sisters' charmless cousin, Chick Boyle, who brashly makes sure everyone knows she is doing the right thing even if it is done without grace.
It is with a careful and humorous eye that Beth Henley observes characters and relationships, and, with its quirky balance of weighty events in a light setting, Crimes of the Heart will raise a smile. It will likely also touch a nerve or educe a knowing nod from anyone who has a sister themselves and a sigh of relief from those who don't.
"Crimes of the Heart" plays until Saturday 16 October
Reviewer: Sandra Giorgetti