Galanteries; The Dance House; Elite Syncopations
Birmingham Royal Ballet
Lyceum Theatre, Sheffield, and touring
(2009)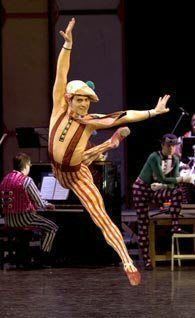 This was a programme of Dance and Music, not with one accompanying the other but in a glorious interaction between the two in a manner not often portrayed so magnificently as that of David Bintley's Birmingham Royal Ballet and Sinfonia.
The three separate pieces, so different in atmosphere, yet each quite alluring in their movement and music, demonstrated the range of the company's verve and elegance. Galanteries, danced to two interwoven Mozart compositions, transformed a rather grey stage with grey clad dancers into a filmy interaction between the four men and eight women acting out a complex relationship of exchange and companionship.
Shostakovich provided a very different mood for The Dance House which opened on a barre at which the dancers began their warming up. and gradually developed their endeavours into a majestic crescendo in which the piano and trumpet, hiddden in the orchestra pit burst forth to stimulate the dancers to their finale excesses. It was explained that this piece had arisen from the unexpected death of a friend which had stimulated Bintley to develop the dance house as a metaphor for death. As the dancers took their bows at the end of the piece they were joined by the loudly acclaimed pianist, Jonathan Higgins and trumpeter Michael Allen, an unusual occurrence.
As the audience returned to the auditorium to watch Elite Syncopations, those near the front could see that the orchestra had disappeared. Then the curtain rose on the company and the orchestra arrayed in holiday garb behind them on stage, with a gold jacketed John Higgins as pianist and conductor.. The dancers in their body stockings formed a striking scene, as each was painted in a great varity of different representations and colours, so they looked as if they were wearing outlandish garb with brightly coloured and decorated tops, and braced up shorts, a range of hats, with a group smoking cigarettes - they looked like real cigarettes - in one corner. The music, largely based on Scott Joplin and other rag tunes, provided a lively link with the range of excellent solos and group work which had the audience toe-tappig in unison,
One of the more interesting aspects of the evening was the difficuly in picking out individual dancers for special mention as this was , more than with many ballet companies, an ensemble effort. Without a doubt it was an evening to be remembered.
Touring to the Gala Durham (15 & 16 May), York Theatre Royal (19 & 20 May) and the Corn Exchange, Kings Lynn (22 & 23 May)
Cecily Boys reviewed this triple bill in York
Reviewer: Philip Seager