Top Girls
Caryl Churchill
Chichester Festival/Out of Joint production
Trafalgar Studios 1
(2011)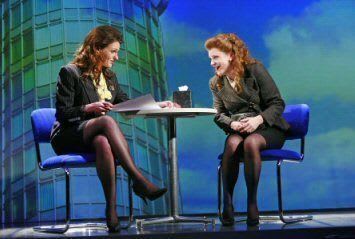 Revisiting a play that he first directed on its debut 29 years ago, Max Stafford-Clark has worked wonders.
Top Girls provided caustic commentary on its own time, the early years of Margaret Thatcher's premiership. It could be argued that with a new Conservative-led Government propounding the benefits of what it calls The Big Society, this revival is timely.
The first act is one of the most memorable in the last few decades. Marlene, superbly rendered by Suranne Jones, has invited a group of female friends to a dinner party at the appropriately named La Prima Donna restaurant.
This is no ordinary group, as each of her guests comes from a different time and place. Every one of them is a feisty female who has found a place in history by showing that women can be high achievers in a man's world.
With such a strong-willed group, there is inevitably a great deal of one-up(wo)manship on show, particularly when intrepid Scottish explorer, Isabella Bird (Stella Gonet) is outdone by Japanese concubine, Lady Nijo (Catherine McCormack).
It also becomes hard to keep Lucy Briers' cross-dressing Pope Joan down. However, the eye is more regularly caught by the almost silent magpie, Dull Gret, Olivia Poulet playing the character immortalised by Brueghel.
The director has the courage to allow his characters to speak across each other, presenting an accurate representation of a real dinner party and portraying these individuals with startling realism.
After the first interval, the scene moves to the rural Suffolk home of Marlene's sister Joyce (Miss Gonet again) and her mildly retarded daughter Angie (Miss Poulet). Their arguments become so heated that Angie decamps to London to visit her much-loved though rarely-seen Auntie.
They meet at the offices of the eponymous feminist employment agency, Top Girls, in which Marlene has just succeeded to managing director, happily walking over her male competitor.
Now, we are able to see this businesswoman in her true light as a ruthless, power-dressing Thatcher clone, which was undoubtedly Caryl Churchill's intention.
She rules the roost over an office filled with bitchy, aspirant Marlenes led by Miss McCormack and Laura Elphinstone. The contrast between these hard-nosed, wealth generators and simple Angie could hardly be more pronounced. While they have mild sympathy for the girl, her aunt regards her as someone who is nothing more than a literal waste of space.
Following the second interval, perspective is given to the previous act as we track back in time to see a visit that Marlene pays to Joyce and Angie during which some family skeletons are unleashed from the bare cupboard.
Max Stafford-Clark and his excellent cast do a wonderful job of giving Top Girls a feeling of immediacy. In particular, this production ensures that we are fully able (as with Cloud Nine) to see the subtle correspondences between the famous ladies in the first act and their modern day equivalents portrayed by the same actors later in the play.
In conclusion, anybody with an interest in feminism, politics of the last 30 or so years or just enjoying a good night out at the theatre should race to the Trafalgar Studios.
Sheila Connor reviewed this production at Chichester
Visit our sponsor 1st 4 London Theatre to book tickets for Top Girls
Reviewer: Philip Fisher