The Winter's Tale (The Complete Edition) (DVD)
William Shakespeare
Heritage Theatre
(2005)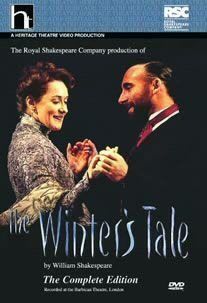 It is in the very nature of theatre that it presents a unique experience. Every performance is different and once a production has finished, it can never be seen again. Therefore, the finest performances and the best productions only live on in the memories of those who have been lucky enough to see them.
If Robert Marshall of Heritage Theatre has his way, this could change, as he is intent on filming fine theatrical performances for release on DVD.
This DVD presents the full-length, three-hour version of The Winter's Tale, together with a casebook of interviews from the cast and company. Originally, there were licensing problems which meant that an earlier version only contained extracts from the performance, interspersed with interviews.
The reviewer was lucky enough to see Greg Doran's version of The Winter's Tale at the Barbican in 1999. It contains great humour and breathtaking moments with a wonderful coup de théâtre at the end and has provided a benchmark for subsequent Shakespearean productions, not just of this play.
The chance to own a video of this superlative version of the play must surely appeal to anybody who loves Shakespeare or Sir Antony Sher.
The great advantage with filmed theatre is that it gives its audience a chance to see the performers' faces close to. Generally, this is greatly to be welcomed although, on occasion, for example when Sir Antony's Leontes, King of Sicilia, is attacking his innocent wife, it can strike fear into the heart.
The plot may well be familiar. The jealousy of a King who unreasonably suspects his wife of sleeping with his best friend provides the background. He is condemned to sixteen years of penitence until an oracular prediction is fulfilled.
The early scenes are shocking in their depiction of Leontes' madness. They are succeeded by comedy as the action moves to Bohemia and we see Florizel (Ryan McCluskey) wooing Perdita (Emily Bruni), watched by her adoptive father (James Hayes).
Eventually, the action returns to Sicilia for a happy and rather magical ending.
Sir Antony is wonderful whether his character is angry or contrite and he is very well supported. Alexandra Gilbreath's breathy Hermione personifies honour, especially in the court scene, while Estelle Kohler's Paulina shows immense strength.
Ian Hughes creates an exceptional Welsh Autolycus, who draws a spontaneous applause from the audience, and proves a true magician while undressing the Young Shepherd.
There are several more pieces of strong acting to support Doran's vision that plants The Winter's Tale in Edwardian times. The design is relatively simple although it is a reminder of the days when the RSC had rather larger budgets than they seem to manage today. Designer Robert Jones provides lavish costumes for the large cast and makes much use of a sail-sized sheet that is almost infinitely adaptable.
No theatregoer should miss the opportunity to own this valuable prize and have the chance to watch an unforgettable evening's entertainment again and again.
You can buy the Heritage Theatre recording of The Winter's Tale from our Video Shop
Reviewer: Philip Fisher