Every Good Boy Deserves Favour
Tom Stoppard and André Previn
RNT Olivier Theatre
(2009)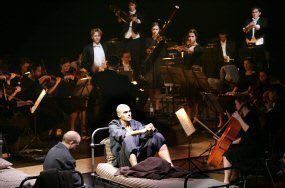 Co-directors Tom Morris and Punchdrunk's Felix Barrett have worked wonders with this very slight but politically incisive early play by Sir Tom Stoppard with musical assistance from André Previn, commenced in 1974 when the gulags were still overflowing.
In little more than an hour, Every Good Boy Deserves Favour achieves a great deal. In textual terms, it portrays madness and attacks the totalitarian Soviet state and its unorthodox suppression of dissidents by condemning them to mental hospitals.
It then illuminates the evening with a symphony orchestra playing music especially composed by André Previn, heavily influenced by Shostakovich and briefly Tchaikovsky and even offers up a short but telling dance.
Around 90% of the Olivier's substantial stage area is taken up by the South Bank Sinfonietta, conducted by Simon Over. They are primarily there to support the tale of two men, each called Alexander Ivanov (presumably a deliberate Chekhovian allusion).
The first, eccentrically played by Toby Jones, believes that he conducts a sometimes silent symphony orchestra which only exists in his head. His alter ego has bigger problems representing the sane man who speaks out against the establishment and ends up in the next mental hospital bed.
Where number 1 is happy as long as his orchestra is playing, Joseph Millson as number 2 wishes to denounce and attack the regime, going on hunger strike to get heard.
Their stories advance in disturbing parallel to a delightful comic dénouement, with sanity proving far more of an impediment than criticism when the doctor visits.
Both actors play their parts perfectly but that is only a small element of this evening. The orchestra provide edgy accompaniment and towards the end, seemingly get involved in a demonstration of political power as members are dragged out by the KGB and beaten up on stage in a moving modern dance of terror.
The whole is deeply chilling, in part at least thanks to a mesmeric lighting design from Bruno Poet, which repeatedly adds to the overall impression of a state at war with itself.
EGBDF plays twice nightly in the Olivier and should not be missed.
Reviewer: Philip Fisher