Roland Petit Triple Bill
L'Arlésienne, Le Jeune Homme et La Mort, Carmen
English National Ballet
London Coliseum
(2011)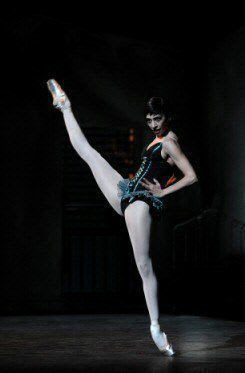 The French metaphor for orgasm is la petite mort, the little death - the spent life force. Death (and sex) is the overarching theme of the English National Ballet's Roland Petit triple bill, not least in the unexpected death of the famous choreographer eleven days before its opening. Death the intruder, death the sought after solace, death the final release...
What was to be a celebration of a living prolific choreographer too little performed in England is now also an overdue homage to the legend and his dazzling art, which took inspiration from Diaghilev and his company of dancers, artists, designers, composers, librettists.
Le Jeune Homme et La Mort, the middle ballet, the oldest (1946), the shortest, has the most impact, the premature climax of the evening, so to speak. Libretto by Jean Cocteau, music by Bach, and le jeune homme Yonah Acosta displaying amazing acrobatic skills - hovering on a cushion of air as Nijinsky was professed to do. His uncle Carlos did say he would be something
But unbelievable dancing technique is not enough. Where Baryshnikov revealed the starving soul, le sang d'un poète, in suicidal despair in his Parisian garret, fighting death but ultimately succumbing to her command, young Acosta is too full of the life force.
More the enfant sauvage - no angst, no inner understanding. But what a dancer he is and promises to be, demonstratively appreciated by the Coliseum audience, as is his nemesis, Anaïs Chalendard, in slinky acid yellow dress and black gloves, and Cyd Charisse legs that pleasure and consume him to Bach's eloquent orotund chords.
Lying on an iron bedstead in the pose of Henry Wallis's Romantic painting of the Death of Chatterton, Acosta comes to glorious life, casting chairs and table before him. When death visits he is not ready for her. He can fight her off. He is not at the end of his tether.
He will not put a noose around his neck. Is he even interested in seduction by an older sophisticated woman? But lead him she does in a death mask sur les toits de Paris (design by Georges Wakhévitch - is that an ironic translation - car in neon lights - the French for because?).
Another young man lead to self-destruction is the boy in the first ballet, the 1974 L'Arlésienne taken from Alphonse Daudet's nineteenth century Romantic novel and play. Set to Georges Bizet's vigorously rhythmic music it is evidently influenced by Bronislava Nijinska's Les Noces.
On the eve of his wedding to Vivette, Frédéri cannot forget the girl from Arles. During the pre-ceremony village celebrations - under René Allio's pastiche Van Gogh blazing brain-sapping red sun backcloth - with a chorus of eight couples in framing formations (lovely sweeping hand movements) - he is distracted by neurotic memories of the girl we do not see.
Vivette can do nothing (Erina Takahashi's dancing is perfect) and madness beckons. Unable to bear the mental torment of love and physical infatuation, he ejects himself from his attic window. Another early climax A male Giselle? The nineteenth century ballets did portray rather daintily and euphemistically the passions and eroticisms the age did not dare speak of openly. Well, Petit does.
Again, though the handsome Esteban Berlanga dances well, the acting needs more mature depth. No cavil this, as one understands that young dancers must be given a chance to perform - and it is good to see them, the stars of the future - just an observation that the choreography has been, and can be, better served. And what inventive choreography: the hands, the feet, the shoulders, the circling passionate leaps crescendoing to the final one.
The much-anticipated Carmen, choreographed for himself and his wife Zizi Jeanmaire, was a sensation in London in 1949, its eroticism was said to have popped men's trouser buttons...
In 2011 it is not the orgasmic culmination of the evening, but a detumescence little desired. Beautiful Begoña Cao in Zizi Jeanmaire close-cropped hairstyle gives it all she has, to the point of tears during the curtain call, and Fabian Reimair has a haughty presence as Don José, but there is no chemistry. No dangerous femme fatale sexual abandon as she impales herself on his dagger.
Lots of ironic fun and parody on Antoni Clavé's set though (a French cabaret revue show, a Diaghilev Parade), more comique than tragique, with Juan Rodríguez and Joshua McSherry-Gray dissipating any tragedy with their antics as the highway bandits. And James Streeter (good burst of dancing), the Toreador in yellow stockings and white painted face, is a Malvolio figure of mockery.
Still, a captivating evening, much enhanced by the orchestra's performance under Benjamin Pope's baton. More Roland Petit please. Thanks to ENB for venturing where few have for some time. Petit's work needs to be revisited - for its fun, its passion, its French chic, its showmanship, and its movement vocabulary.
Till 24th July 2011
Reviewer: Vera Liber