The Marriage of Figaro
Wolfgang Amadeus Mozart, libretto by Lorenzo Da Ponte, translated by Jeremy Sams
English National Opera
London Coliseum
(2011)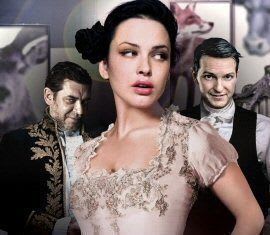 Some 225 years old, Mozart's finest masterpiece now prompts many of us to remember the first performance we saw. One colleague remembers the debut of Kiri Te Kanawa. My own recollection is of Deutsche Oper on the Kurfurstendam in the seventies when I saw Elisabeth Grummer as the countess under the baton of the veteran conductor Karl Böhm.
That the current revival directed by Fiona Shaw for English National Opera should court such golden memories is a tribute to the sparkle of this new production.
Not perfect, by my Berlin standards at least, but full of wit and charm all the same.
The otherwise excellent design by Peter McKintosh sets the action in a three dimensional revolve redolent of Downton Abbey. It is distinctly too lively for me and we get rather a lot of it and I sometimes felt that the set was tending to upstage the music - oh dear me no!
There is also a lot going on in an around the large house. I know the director was telling us something about the play with this but it all left me a shade stressed out just when I was awaiting that final glorious ménage-à-cinq - or is it six or seven? It is certainly a poignant moment which bursts into that joyous finale for which I wish I had been better prepared.
However, it would be quite wrong to suggest that this is anything but a charming revival of Mozart's most popular work, full of delightful moments from start to finish.
Former ENO musical director Paul Daniel returns to conduct with a lightness of touch that seems reluctant to intrude upon the busy life on stage.
I did, however, sorely miss the harpsichord for which the conductor's fortepiano, however deft, is no substitute.
Enough carping, the present company is boosted by the return from sickness of Kate Valentine, a rich-voiced countess who grows younger, it seems, with every production..
Valentine may not show all the weight of sadness usually to be heard in her opening aria but her performance of the extended Act 3 aria "I remember days long departed" is excellent.
Roland Wood's Almaviva is richly vigorous with a nice sense of the absurdity of some of his scenes and he is at his finest in the testing recitative and aria "Must I forgo my pleasure" .
And there is a very fine performance from the soprano Devon Guthrie making her European debut as Susanna. . Her contribution to the ensembles is splendid and she shares the lively duet with Figaro, "Oh why are you so cruel?"
Iain Paterson is remarkably trim and in great voice in the title role, clearly delighting in Jeremy Sams' witty reworking of the famous martial rebuke to Cherubino, "Now your days of the rover are over!" Sam's new text is for me distinctly Gilbertian and, for me, one of his best.
And it is the performance of the slim, young mezzo Kathryn Rudge as Cherubino which is the real show stealer of this production.. Even without the customary guitar accompaniment, she triumphs in the ever-popular "Tell me fair ladies".
Fine performances, too, from Lucy Schaufer (Marcellina), Jonathan Best (Bartolo) with a rousing account of "La vendetta" and tenor Timothy Robinson as a blind music teacher.
The whole is completed by the excellent work of assistant chorus master Nicholas Chalmers.
The performance can be seen at the Coliseum on Thurs 10th November.
Reviewer: Kevin Catchpole