Messiah
George Frideric Handel
English National Opera
London Coliseum
(2009)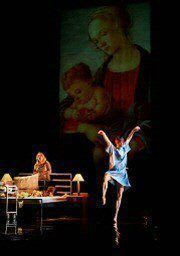 Controversy has followed Handel's most popular oratorio, Messiah, since its first performance in Dublin in 1742.
It is fairly certain that while delayed en route for Ireland by unfavourable weather, Handel rehearsed the great work in Chester, home of my own alma mater - though not, it is said, in the cathedral where I sang as a chorister in my own first performance but in the nearby St John Street Wesley Methodist Church. Here, the tale continues, the composer enlisted cathedral choristers, including the legendary printer who sang at sight "but not at first sight".
The controversy continued this week with the public performance at the London Coliseum of Deborah Warner's theatrical staging of Messiah for English National Opera.
It was bound to end in tears - critical tears at least, for I am glad to record that the first night audience on Friday received it with almost rapturous applause.
Was this, as the cynics might say, a sympathy vote for the gallant voices of the ensemble or something more?
Warner, no doubt following her brief, turns oratorio into community theatre. Casually dressed singers stroll in and out for their big scenes, as do the principals, Sophie Bevan (soprano) Catherine Wyn-Rogers (alto), Justin Mark Ainsley (tenor) and Brindley Sherratt (bass).
Did I imagine it or were they all just a tad uncomfortable in their unfamiliar roles, shorne of the security of the formal concert platform?
A notable exception to this last observation is the treble Harry Bradford whose rendering of the recitative "There were shepherds abiding in the fields" is a model of chorister's assurance.
I wonder how we would react to a purely choral account of Verdi, or one of those other stalwarts of the operatic stage? I know how popular are voice only performances of Gilbert and Sullivan. So why not an open minded approach to the introduction of theatre to oratorio?
Yet I have the evidence of my interval conversations this week which produced few patrons ready to admit that they warmed to this new genre.
It is a brave venture by London's house of Handel, less so for Warner for whom this sort of thing is stock in trade.
"Interesting" used to be my flawed response as a cub reporter when confronted with a question beyond my competence. Sadly, the word returned to the tip of my tongue this week.
"Messiah" is staged at the London Coliseum on Tuesday 1st, Wednesday 2nd, Friday 4th, Sunday 6th (3.00 pm) and Tuesday 8th, Thursday 10th, Friday 11th December all at 7.00 pm
Reviewer: Kevin Catchpole