The Pearl Fishers
Georges Bizet
English National Opera
London Coliseum
(2010)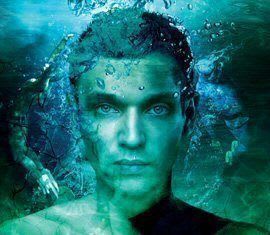 However it is achieved, the vision of two pearl fishers swimming bravely in the depths of the South China Sea, projected full stage during the prelude, sets precisely the right sense of excitement for the opening of Bizet's first great opera The Pearl Fishers. The production, staged this month by English National Opera, is at the Coliseum for the first time in 23 years.
There are those who have it that the picture is of acrobats in a digital simulation. I prefer to see them as real swimmers letting us into the secret of this remarkable and truly grand opera.
It is small wonder that this work, completed some 20 years before Carmen, is seldom performed. The demands on chorus and staging are enormous. Happily, ENO are currently particularly well blessed in the former with the excellent services of chorus master Martin Merry for good measure, and, so far as the latter is concerned, fortunate in securing the services of noted film director Penny Woolcock and her excellent design team led by Dick Bird.
Nor is there anything remotely sentimental about the choice of the opening scene, for Woolcock has the sea as central to the piece, mindful of climate change and its destructive force around the Far East.
Dick Bird's remarkable setting is distinguished by the crowded stage of flimsy shacks, densely packed in tiers from top to bottom, not to mention the placing of the 50-strong chorus!
And this production rejoices in especially fine principals. I missed Quinn Kelsey's Zurga - but baritone Roland Wood is in such fine voice with a performance that could hardly be bettered and his duets with the rising English tenor favourite Alfie Boe are worth a long journey. Boe of course has the slim physique as well as the powerful voice that have already made him something of a matinee idol. Where that power and clarity come from is one of the mysteries of art and technique - something for those of us who were mere childhood choristers simply to hear and enjoy.
The role of Leila is superbly sung by the silken voiced American soprano Hannan Alattar whose duets with Boe are the great feature of this performance. And none finer than the off-stage finale reprisal of the great Act one duet when Leila and Nadir are joined by Zurgar in a closing moment of pure Bizet perfection.
There is also a lovely performance by bass baritone Freddie Tong as High Priest Nourabad.
This large and exciting production is conducted by Rory Macdonald whose control of his massive forces is exemplary.
Further performances of "The Pearl Fishers" will be staged at The Coliseum on 8th July at 7.30 pm and on 4th July at 3.00pm
Reviewer: Kevin Catchpole