Der Rosenkavalier
Richard Strauss; libretto by Hugo von Hofmannsthal
English National Opera
London Coliseum
(2008)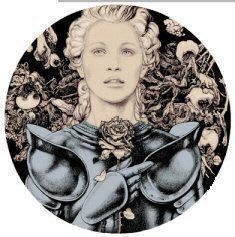 While we must all accept that both Prince and Madonna have turned 50, it is almost impossible to believe that time has caught up with the lovely Marschallin of Richard Strauss's passionate comedy for music theatre, Der Rosenkavalier - that is, until you peer through the cobwebs with which David McVicar's eagerly awaited Scottish Opera production, surrounds this captivating work.
Now revealed by English National Opera at the London Coliseum, this production delights as any half-decent performance of Der Rosenkavalier delights. For it is, of course, musical magic and theatrical joy. Yet there is a strange shabbiness about this production which obscures the magic and impedes the joy. Had I not seen the director take his first night curtain bow, I would doubt that this was truly his production at all!
If my impression of "shabbiness" is right, then it is no accident. For McVicar, together with Michael Vale, is also directly responsible for the design which, more than any other factor, sets the tone of this strangely subdued production.
Much has already been said about the waltzes which Srauss weaves so remarkably into the score of a work which he, himself, has set in the 18th century - when we might have expected gavottes. Anachronisms aside, the design quite fails to live up to any expectations that may be raised by gilt drapes tantalisingly flaunted before the rise of the curtain.
Perhaps it is this air, almost of desolation, which influences the principal performances, not least that of Janice Watson as Marie Therese. Lovely in form and voice, as one would expect from this most experienced Strauss soprano, there is nevertheless a hint of weariness about the interpretation which seems to permeate the entire company.
Even the splendidly masculine Octavian of Sarah Connolly appears at times surprisingly fragile, albeit this could be taken as evidence of, so to speak, a morning after the night before!
In fact, with Alfie Boe, Camille in ENO's current revival of The Merry Widow, deputising for the indisposed Dwayne Jones, one almost wonders how the Werdenberg finances in their evidently parlous state, can afford this luxurious tenor!
Even Sarah Tynan, a truly prettily-voiced Sophie, lacks that certain sparkle that we have come to expect from that unique moment of sheer brilliance at the opening of Act 2. Here again, Faninal's mansion is frugal, rather than regal.
However, it is in the performance of the distinguished baritone John Tomlinson that we find the real clue to the director's mark which, in fact, is all over this production.
Ochs is so much the force behind this work that it was originally to have been titled after him. And here Tomlinson, who can be as imposing as any figure on the operatic stage, is almost a shadow of the character we expect. Colourful, raucus, splendidly entertaining - yet not the "kammerstar" his rank has always led us to expect.
There are, to be sure, many pluses about this production. Above all, there is the score - that luxurious orchestration to which Strauss committed originally more than 100 instruments. And, for me, ENO musical director Edward Gardner handles them superbly. There is also the libretto, now in a translation by Alfred Kalisch, which, thanks largely to von Hofmannstahl, has, since its first appearance in 1911, remained among the finest in musical theatre.
Yet whatever the shortcomings, especially in terms of style, as Octavian, disguised as maid Mariaendl observes in Act 3: "One simply has to weep because it is so beautiful."
There are performances of "Der Rosenkavalier" on May 28th, and 31st (5.30 pm) and on June 2nd, 5th and at 5.30 pm on 7th June, the final performance being recorded for transmission on BBC Radio 3 on 14th June.
Reviewer: Kevin Catchpole