Siegfried
Richard Wagner
English National Opera
Coliseum
(2004)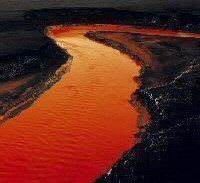 Phyllida Lloyd's production of The Ring for English National Opera becomes more like real Wagner with each succeeding chapter.
Following a Rhinegold in which score and staging seemed estranged, The Valkyrie unveiled an exciting new vision of an operatic icon. Now, with what often proves the sternest test of audience concentration in the cycle, Phyllida Lloyd stages a truly colourful account totally in sympathy with the composer's intentions.
Quite apart from a rousing partnership between the scheming Mime (John Graham- Hall) and his truculent foster child, the heroic Siegfried himself (Richard Berkeley-Steele), the production also boasts scenes which in past times might have merited an 'H' certificate.
In their soap operatic living room, Mime and Siegfried inhabit a clutter of unwashed plates and sporting posters, the latter including pugilists and an Arsenal action shot. So it is no surprise when the hero enters as a curly-locked Ray Parlour and the careworn expression on the old Nibelung's face is explained.
Not much sign of activity in the workshop where re-forging the sword owes more to witch doctor than blacksmith, though this terrifying scene is sung with enough gusto to melt anything!
Act two's woodland setting is another triumph not least for the performances of Robert Hayward as the Wanderer - how he has grown into the authority of this role - and Sarah Tynan as a sweet, scooter-borne Woodbird .
More chilling theatre, too as Mime and the booming Fafner of Gerard O'Connor are slain. Such excitement, of course, thrives on the waves of Paul Daniel's oceanic orchestra, which may even be a little too generous for the paying gods!
If there is a bone to pick over Richard Hudson's imaginative designs, it is that they lack the sense of continuity shown by the players and, of course, the music.
Act three finds the gods, ageing without the powers of the ring, in a home for the elderly, among them Patricia Bardon's richly toned Erda, where the statutory TV shows flames around Brünhilde's rocky prison.
The climax, however, is one to send any full house home content - ablaze with passion as Berkeley-Steele and Kathleen Broderick's Brünhilde fall upon each other in a thrilling performance of a duet, rousing even by Richard Wagner's standards.
The production can be seen at the Coliseum on 17, 20, 24 and 27 November and on 3 December, Saturday performances commencing at 4 pm, other performances at 5 pm.
Reviewer: Kevin Catchpole