Tosca
Giacomo Puccini
English National Opera
London Coliseum
(2011)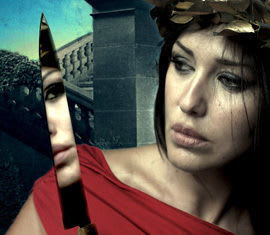 An enraptured first night house gave a lusty reception to the return of Catherine Malfitano's production of Puccini's evergreen 1900 work Tosca at the London Coliseum on Saturday.
Malfitano, in her day a Tosca of considerable authority, noted for a memorable award winning television performance in the original Rome setting, evidently has great affection for the work which communicates through the very pores of this production.
Three cruel chords demand our attention as the curtain rises on Sant Andrea della Valle, refuge of the fleeing prisoner, Angelotti (bass Matthew Hargreaves).
Yet this is not an opera crowded with arias and even ensembles. Cavaradossi has but two whilst the heroine herself only one, the moving "Vissi d'arte" in Act Two.
Claire Rutter's performance in this famous role is outstanding, her singing powerfully dramatic and her descent from the parapet at the final curtain is the most splendid I have ever seen.
The painter Cavaradossi, is beautifully sung throughout by the excellent Welsh tenor Gwyn Hughes Jones. His lyrical voice soars in the opening aria by the portrait, "Strange harmony of contrasts" yet still, two acts later, brings a lump to the throat in the immortal "When the stars were brightly shining".
Between this piece of great beauty is an impressive performance of evil by the Scarpia of baritone Anthony Michaels-Moore. Small wonder this singer is in demand for dramatic roles in houses in Europe and around the world.
One of the jewels of this production is the allocation of the role of shepherd boy to a treble, the young Jacob Ramsay-Patel winning a deserved ovation on the first night.
Design by Frank Philipp Schlössmann is thoroughly in tune with the spirit of the piece, as are Gideon Davey's costumes, particularly the enormous bishop's cloak in the famous "Te Deum" which climaxes Act One.
There is a splendid thrilling sound to the conducting of Stephen Lord and the brilliant playing of the orchestra.
My only concern is over the heavy mist which obscures much of Act Three. However, those who are more familiar with the elements which enshroud the hills of Castel Sant Angelo may tell me that this is how it is and we certainly are treated to a splendidly rounded realisation of the famous edifice itself.
The performance can be seen Wednesday 30th November and Friday 2nd December.
Reviewer: Kevin Catchpole